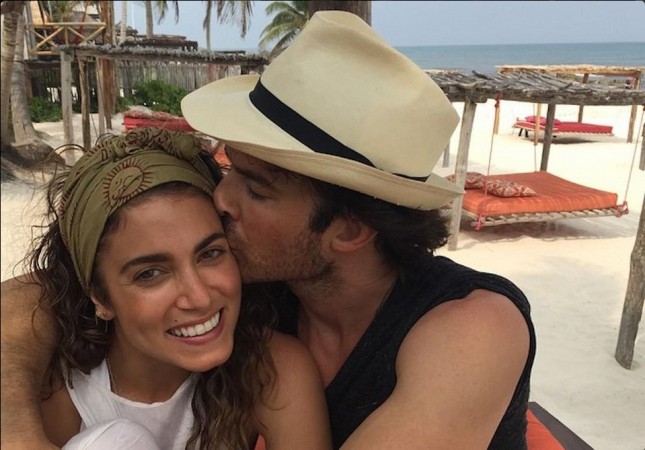 Nikki Reed and Ian Somerhalder have thrown the speculations about a troubled marriage out of the window, as the latest buzz is that the newlywed is planning to start a family and a honeymoon baby could very well be on its way.
Ian and Nikki dated for around nine months before getting married in California last month, just four months after their engagement. And, the couple was spotted having a lot of fun at their honeymoon in South America.
Recently, the actress expressed that she cannot wait to start a family with the 'Vampire Diaries' actor. Speaking with E! News, "The Twilight Saga" actress said she and her mom have a wonderful relationship and hence, she can see herself becoming a mother at one point too.
She said it would be beautiful to make her mom her idol and it's the strong relationship she shares with her mom that tempts her to become a mom herself.
"At some point, yes," she told the website when asked about becoming a mother.
Well, it looks like the feeling is so strong that the couple may end up having a honeymoon baby.
The two indeed seem to be enjoying their honeymoon period to the fullest. While we saw a lot of PDA taking place during their vacation, it's quite possible the two spent a lot of time in the bedroom as well.
"Ian promised Nikki in his wedding vows that he was going to be the best dad ever," a source told OK! Magazine.
"And not only that, but he added that they would "start the 'baby-making process' right away," the source added.
The chronology of events, Nikki's wishes to become a mother and the couple discussing starting a family during the last leg of their honeymoon, hints at the possibility of a honeymoon baby.
"They think having a honeymoon baby would be "a great story to tell their children," the source said.
Given that Nikki Reed and Ian Somerhalder announced their marriage plans within a few months of dating, we wouldn't be surprised if the baby announcement is just around the corner.