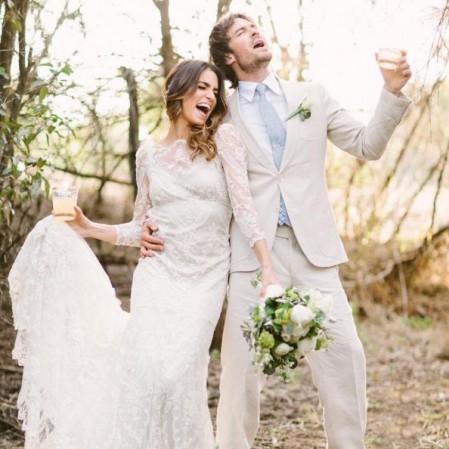 Nikki Reed and Ian Somerhalder have officially been promoted to parents. The star couple, who announced that they were expecting their first child together in May, have announced that they have become parents to a beautiful little baby girl.
The couple confirmed to E! News that they welcomed their first child on July 25 and named her Bodhi Soleil Reed Somerhalder. While everyone is happy about Reed and Somerhalder turning three, fans are confused about what the baby girl's name means.
Also Read: Nina Dobrev happier with Glen Powell than she was ever with The Vampire Diaries actor Ian Somerhalder?
To start off, we can tell you that the meaning will leave you in awe. The unusual name is a mix of Sanskrit and French. According to Perez Hilton, Bodhi in Sanskrit means "enlightened" or "awakened" while Soleil, of French origin, translates to the Sun.
Now that we know the meaning, fans are waiting for the first look at baby Bodhi. According to People, fans will have to wait for sometime before the first official picture is shared.
"We'll take the baby's first month for ourselves. After the baby arrives, we're doing one month of silence. Just the three of us, no visitors, and we're turning off our phones too, so there's no expectation for us to communicate. Otherwise, every five minutes it would be, 'How are you feeling? Can we have a picture?' You don't get those first 30 days back, and we want to be fully present," Reed told People.
The couple tied the knot in April 2015 and celebrated their second wedding anniversary this year. The news about their wedding broke out nine months after dating rumours took off and they were spotted enjoying each other's company in a market place.
They announced the baby's arrival in an adorable picture on Instagram reading: Hi Little One. I know you, but only because I feel you. How is it possible to love someone so much already? All I know for sure is it's the strongest feeling I've ever felt. We've been sharing this body for quite some time, and we've already experienced so much together. We can't wait to meet you... Love, your parents," Reed wrote.
Congratulations, you two!