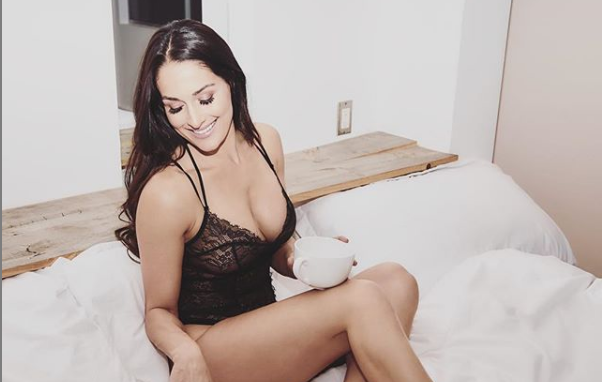 Nikki Bella may have moved on from John Cena and has reportedly found love again with her former dance partner from Dancing With the Stars, Artem Chigvintsev, but the Total Bellas star recently stated that she still loves her former fiancé John Cena.
In a recently released supertease for Total Bellas season four, which is scheduled to premiere on January 13, Nikki Bella admits that she has been struggling to get over her former partner John Cena.
In the clip, the Bella Twin admits to her sister Brie Bella that "it's confusing because I'm still in love with him."
Nikki Bella and John Cena were once in a romantic relationship. The WWE champion amazed everyone after he proposed Nikki to marry him during WrestleMania 33. Soon after, fans started to speculate when the engaged couple will get married.
However, things took a drastic turn and just before a month from their scheduled wedding, the lovebirds parted their ways. In a joint statement, the couple stated, "While this decision was a difficult one, we continue to have a great deal of love and respect for one another. We ask that you respect our privacy during this time in our lives."
Nikki Bella and John Cena were later spotted in Australia where they both attended a WWE event but it was revealed at that time that the former couple is not back together.
Fans of Nikki Bella and John Cena hoped that the couple will be back together but that did not happen and as recently reported, Nikki Bella might have moved on in her life as she has started casually dating.
It was earlier reported that Nikki Bella might be going on a date with former Bachelorette star Peter Kraus. In the attached clip, Nikki Bella shares to Peter Kraus that she hasn't kissed another guy in nine years before the young lad moves in for a kiss.
Meanwhile, a recent report suggested that Nikki Bella is reportedly flirting with Artem Chigvintsev. The pro wrestler and the ballroom dancer have reportedly been seeing each for a while now.
More information about Nikki Bella's feelings for John Cena will be unveiled when the Total Bellas will return on January 13, on E! with a brand new season.