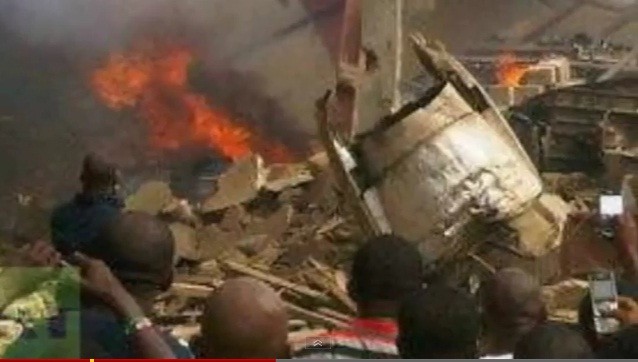 Over 150 people were presumed dead after a passenger plane plunged into a densely populated region of Lagos, southwest of Nigeria, on Sunday.
All 153 passengers aboard Dana Air perished in the crash, Nigeria's Civil Aviation Authority told the Associated Press (AP). Several residents on the ground were also reported dead. However, the number is yet to be ascertained.
Chinese news agency Xinhua said that among the dead were around four Chinese citizens, mainly diplomats in Nigeria, the news service said.
The Boeing MD83 was on its way from the Nigerian capital Abuja and had reportedly crashed into the approach path of aircrafts going to Murtala Muhammed International Airport in Lagos.
Several buildings were damaged and around three houses were set on fire as the plane tore through the area Sunday night.
Rescue teams rushed to the crash site, with fire fighters and local authorities battling out blazing fires around the wreckage. TV reports showed residents gathering in huge numbers around the crash site which was covered with thick smoke and had parts of the wreckage scattered all over.
The cause of the crash is yet to be determined. However, the pilots had reportedly informed the control room about the technical problems in the plane's engine prior to the crash.
A three-day period of national mourning will commence following the crash. "[The President] prays that God Almighty will grant the families of the victims of the plane crash the courage and fortitude to bear their irreparable loss," the presidential office said.
Nigerian President Goodluck Jonathan has also summoned for the nation's flag be flown at half-mast during the mourning period. The President has also ordered for an investigation into the crash, the Agence-France Press said.
Sunday's plane tragedy comes on the heels of another airborne crash in Ghana, where a Nigerian Boeing 727 cargo airliner coming in from Lagos pummeled into the ground and killed around ten people on Saturday, the AP said.