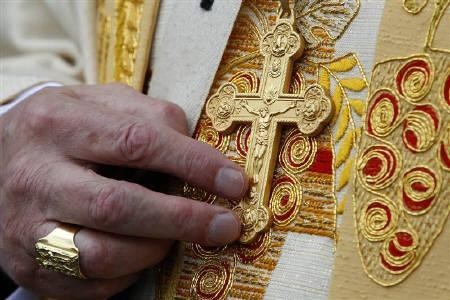 A 53-year-old Pastor in Nsukka, Enugu state has been arrested by the Nigerian police for tricking several women into having sex with him, after claiming that he was being directed by the Holy Spirit.
The arrested Pastor, identified as Timoty Ngwu of Ministry of Holy Trinity, works among the Umudikwere community.
The man is said to have had sexual relations with several women in the name of God. However, his wife Veronica could no longer ignore his fraud, especially after he impregnated her teenage niece.
The Pastor locked up his wife, after she confronted him about his deeds. However, Veronica managed to escape with one of her daughters. She then approached the Criminal Investigations Department unit, which handles child sex abuse cases, and lodged a criminal case against her husband.
Veronica, in her written complaint, alleged that when the Pastor converts married woman and single girls, he would fool them, claiming that God wanted them to have sexual relations with him.
"I could not stomach his 'rascality' anymore," Veronica stated in her complaint, reported Vanguard.
Following his arrest, the accused Pastor said that he had intercourse with married women as he was guided by the Holy Spirit to do so but insisted that he would always take the consent of their husbands.
The police investigations also found that the accused Pastor had fooled several young gullible girls.
The investigators also found two young women in the church property who had left their husbands and were living with the Pastor. The women claimed that the Pastor had asked them to leave their husbands as the Holy Spirit wanted them to serve the anointed servant of God.
The Pastor has now been charged with child sex abuse. It is believed that at least 100 women, including girls as young as 11, might have been victimized by the accused.