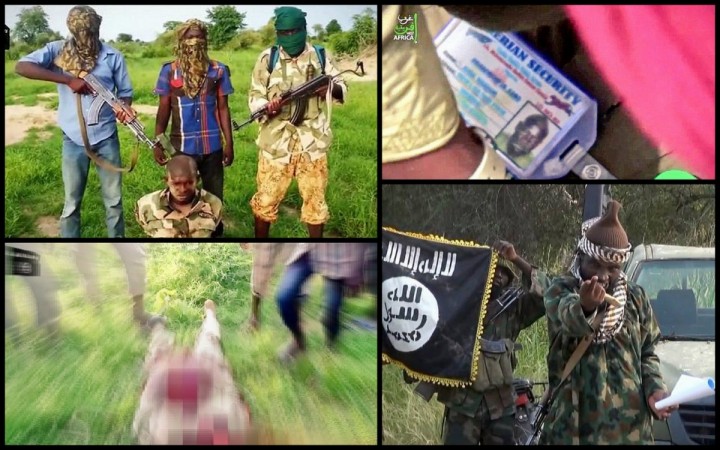 Nigerian Islamist radical group Boko Haram has released an Isis-style beheading video, which shows the militant group brutally executing an African Union soldier.
It is said to be the first beheading video to be released by the militant group, after aligning itself with the Islamic State (Isis) terrorist group.
In March, Boko Haram leader Abubakar Shekau had pledged allegiance to Islamic State (Isis) in an audio message and renamed the group as Islamic State's West African Province (Iswap), according to BBC. Soon after this Isis spokesperson released a message 'welcoming' the African group into its folds, The Guardian had reported.
A report in Leadership stated that the gruesome video was "jointly released" by both Boko Haram and Isis sources.
The 10-minute long video starts with the Boko Haram engaging in fierce battle with the African Union soldiers. The clip later shows dozens of African Union soldiers lying dead on the ground after the battle.
The video is shot in a cinematic style as seen in most of the Isis execution videos, including 'high-quality editing.' Boko Haram fighters also show off the badges of soldiers slain in the battle.
By the end, the execution video shows an African Union soldiers kneeling to the ground, while around him several Boko Haram fighters armed with AK-47 are seen standing. The video then pans and zooms in to show the decapitated body of the soldier lying in a pool of his own blood, while his head is placed over his body.
In June, Boko Haram had released an execution video, "Attacks by the Soldiers of the Caliphate in West Africa," in which the militant group beheaded a civilian and killed several injured Nigerian soldiers by shooting them in the head.
Boko Haram, in July 2014, had released a beheading video of a Nigerian air-force pilot.