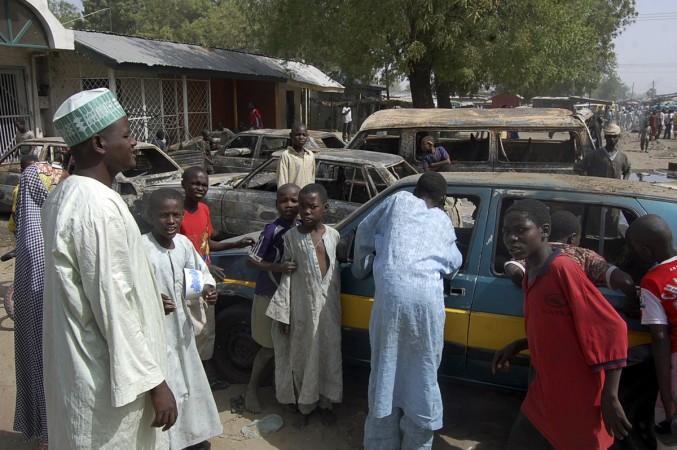 As Nigeria prepares to go to the polls to elect its new president on 14 February, in what is seen as the first election contested by two rival parties, millions of Nigerians may not be able to cast their votes after all.
Flaring Boko Haram violence in the northern states has left many towns ravaged, thousands dead and millions displaced.
Over the last weekend, the group launched a heavy attack on Maiduguri, the biggest city in northeast Nigeria, as it seeks to build an Islamist state in the region.
But it is not just the ruthless terror group that has posed a grave threat to the elections; the religious north-south divide, a seemingly ill-prepared election commission and plain logistics could be just as explosive.
Boko Haram
The terror group has already rendered much of the country's north-east inhabitable, and its brutal attack on the town of Baga at the beginning of the year almost 'wiped it off the map', according to Amnesty International, which accessed satellite images to showcase the widespread destruction.
As many as 2,000 people were feared killed in the attack on Baga and neighbouring towns, and terror group left more than 3,700 structures damaged or completely destroyed
Given that thousands are now internally displaced, polls may be the last thing on their minds.
Compounding the chaos, Boko Haram's indiscriminate use of suicide bombers, even young girls, is likely to keep scores of people away from polling booths.
"We have the situation where people are going to have to think hard about whether they want to vote if the person in line behind them is going to blow themselves up," Dr Peter Pham, head of the African branch of the Atlantic Council, told NBC News.
In the recent months, the militant group has increasingly strapped girls as young as 10 with explosives, using them as disposable and innocuous-looking suicide bombers to wreak havoc.
Logistics
But apart from Boko Haram, one of the biggest hurdles to a fair election is the fact that half of Nigeria's 60 million voters are still without polling cards, NBC News reported.
"If in one year you have distributed 30 million [cards] I don't see how you will distribute another 30 million in two weeks," Sambo Dasuki, national security adviser to Nigerian President Goodluck Jonathan, reportedly said at an event in London.
He has reportedly sought a postponement of the polls by the electoral commission.
As millions of people have been forced into refugee shelters to escape violence, the election commission is preparing to put up ballot boxes at the various camps, but its capacity to pull it off is under scrutiny, given its already floundering resources.
Religion
Christians and Muslims, who make up one half each of Africa's most populous nation, have already created faultlines between the country's north, dominated by Muslims, and the wealthier south where more Christians live.
This election will also likely see the two religious groups pitted against each other, with President Goodluck Jonathan expected to get Christian backing, while the Muslims are likely to root for Muhammad Buhari, a former military dictator of Nigeria who is now the presidential face for the All Progressives Congress.
The 2011 riots, which left 800 dead after Buhari lost the election, serves a chilling reminder of where this election could be headed.
After Buhari lost the election to Jonathan in 2011, seen largely as a fair election, his Muslim supporters killed hundreds of Christians in the northern states, while Muslim minorities in Christian towns in the south were hounded by Christian mobs.
In an alarming trend ahead of the upcoming elections, several local politicians are said to have armed their supporters, with reports suggesting an influx of illegal arms weeks before the polls, according to The Washington Post.
Close Contest
This will mark the first electoral contest between the two major parties in Nigeria - the incumbent People's Democratic Party is facing a stiff rivalry from the recently formed All Progressives Congress, a coalition that has brought several opposition parties together.
Since 1999, when the country moved from military dictatorship to democracy, the PDP has easily lapped up every election.
But now, tensions are rising as Jonathan has already lost many of his government members to the opposition coalition, who have complete faith in Buhari to take on the increasingly dangerous Boko Haram.
"He is a no-nonsense person who will not tolerate Boko Haram," one Jonathon defector told NBC News.
But voters seem to be torn between choosing a more effective leader and safeguarding their communities.
"If the Christian leader does not have what it takes to provide good leadership I will not vote for him merely because he is a Christian. However, I will make a choice between that Christian leader and a Muslim leader who may not guarantee freedom of religion... so to that extent I may lean to the Christian leader but that is not how it should be," a voter Arome Okwori told BBC.
But even while several in the Christian community perceive Buhari as an Islamist hard-liner, a spokesperson for his party dismissed it as "mischievous talk."
"Gen Buhari believes in the secular nature of Nigeria. "He is not a religious bigot. He is not a fundamentalist. That is mischievous talk," Lai Mohammed, a spokesman for the All Progressive Congress (APC) told BBC.
International Pressure
The Nigerian elections will be a key focus of the global community more than ever before, juxtaposed with the horrific violence by Boko Haram, which has earned international ire for its crimes, including its kidnapping of 200 schoolgirls last year.
Former president Olusegun Obasanjo on Sunday asked Nigerians to not disappoint in the upcoming elections, stating that the world is watching.
"The elections are crucial and the international community is watching us. We should not disappoint them, by ensuring that the elections are free and fair. This election is for progress and development of this great country and should be devoid of sentiments, like religion, ethnic and nepotism," Obasanjo said at an event, according to Nigeria's The Guardian.
Apart from just observing, the international community is likely to implore the two parties as well as the nation's military to ensure that the electoral process is carried out smoothly and does not tread the same violent path as the previous one.