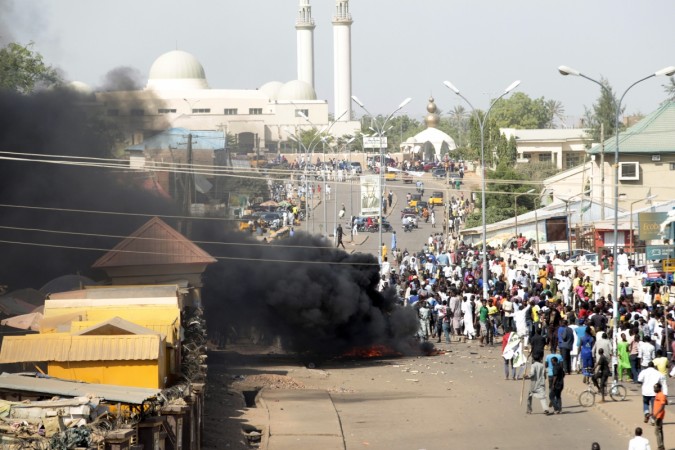 A suicide bomber girl, all of seven years, blew herself up along with seven others in northeast Nigeria on Sunday. The attack took place in a market area in the city of Potiskum, the commercial capital of the Nigerian state of Yobe. The incident is reportedly the latest in the string of suicide bombings involving children.
The initial death toll was reported to be six but medical sources at a state-run hospital in the area later revised the number to seven, excluding the little girl involved in the suicide mission.
Similar previous attacks in Nigeria have been blamed on Boko Haram although there is no clarity on who was behind the latest one.
AFP quoted a local vigilante leader Baba Lawan as saying that 19 people were injured in Sunday's attack and were taken to hospital.
The bombings come in the run up to the presidential and parliamentary elections to be held on March 28 and are largely understood to pose security challenges in Nigeria.
Sunday's attack coincided with French foreign minister Laurent Fabius's visit to neighbouring Chad, Cameroon and Niger, where he urged Nigeria to fully devote its resources and commit towards fighting Boko Haram militants whose name roughly translates as 'Western education is sin'.
The militant group is thought to pose the greatest challenge to President Goodluck Jonathan, who has been in office since 2011, and is engaged in a re-election campaign against ex-military ruler Muhammadu Buhari.
Initially scheduled for 14 February, the election was delayed for six weeks in order to allow the military to secure the country, various reports have noted.
"Probably at the beginning, we, and I mean myself and the team we underrated the capacity of Boko Haram," Johantha told local newspaper ThisDay in an interview published on Sunday.
He however, said that the country's military had acquired more arms and ammunition and that the defeat of the jihadist outfit is imminent.
"...with what is happening now, in the next two weeks, that is three weeks into the six weeks, God willing, Nigerians will be happy with what the military has done in the North-east," he told the paper.