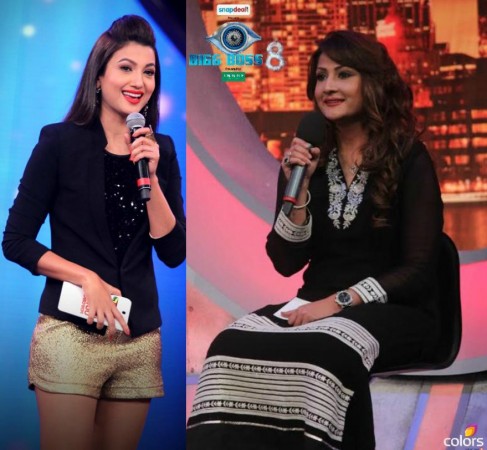 "Bigg Boss 6" winner Urvashi Dholakia has taken digs at season 7 winner Gauahar Khan, after the latter's sister Nigaar Khan made a wild card entry into the house of "Bigg Boss 8".
When Urvashi had won "Bigg Boss 6", Gauahar had tweeted about how only TV stars won the popular reality show. Recalling this moment, the season 6 winner lashed out at Gauahar on her blog posted on ITimes on 12 November.
"I'm sure she (Nigaar) has had enough learning from her sister Gauhar Khan who was the winner of Bigg Boss last year," she wrote.
"I categorically remember when I won season 6; Gauhar Khan tweeted about how unfair "Bigg Boss" is, as only TV actresses were winning and nobody else. Now if my memory serves me right, after winning the show, even Gauhar started hosting a TV show. Errrrrr..... toh tumhaare aur humaare beech mein fark kya hai??? It is the same television industry after all," she added.
Urvashi also wondered if she could expect a similar tweet from Gauahar in case her sister Nigaar, who is also a TV actress, wins season 8.
"And the bigger irony here is that now sister Nigaar Khan too is in the running for the BB title and guys please realise, she too is a TV actress! What if by default she wins too??? Do I expect a similar tweet for Nigaar too????? I doubt!" she concluded.
After reading her blog, Gauahar took to her Twitter page to respond to Urvashi. On Tuesday, she wrote, "Dear urvashi. Yes I did tweet my query on why only tv actresses wld winbiggboss consecutively. But tat was not 2take away frm ur credibility. It was fr d trend in audience voting. N tat changed wid my win last year mch to my surprise..u n imam were my favs too. N I'm a tv personality."
Gauahar also wished all the success to Urvashi, "Not a actor on tv yet..wld love to do tat if it cms my way in future.I wld luv fr my dis to win. N my other fav is gautam who also is frm tv. dear urvashi..wish u great things... N hope u hav ur peace wid my tweet after understanding my POV then... God bless."
While one might have thought that the tiff would end here, Urvashi, who was miffed with the hate messages from Gauahar's followers, took to her Twitter page and posted a picture featuring the season 7 winners' tweet.
"For all u HATERS here's the tweet that gauhar sent out .... I don't talk like you guys without facts . Get a life !!" she wrote.
She also replied to Gauahar's tweet and said that she didn't mean to annoy anyone, but was just airing her views. Urvashi noted that she hasn't shown any kind of disrespect or insulted Gauahar or her sister Nigaar.
"Gauhar I've known nigar for years and we've shared great times i wish u and her both best wishes & may u both achieve everything u want. (I) Would appreciate all the ppl who support me 2 stop using harsh words 4 gauhar & give the respect that is due. There is no need for bad blood."