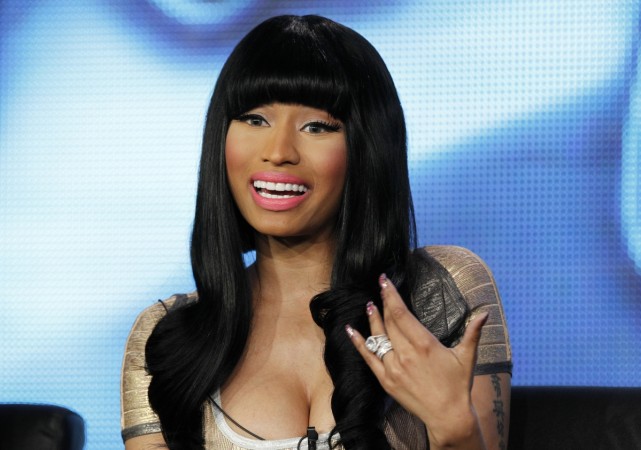 On the occasion of Mother's Day, a number of celebrities decided to post pictures of their moms introducing them to their fans. Some posted nostalgic memories, while others chose to click a selfie. But one Mother's Day post took Instagram by surprise and shock, all at the same time.
It is known that Nicki Minaj is one helluva beautiful woman. On Mother's Day, fans found out where she gets her beauty from, her beloved mother, Carol Maraj. At first you'd confuse yourself thinking that it could be Minaj in another avatar, but it is by her description in the caption that you understand that the lady in the picture is her mother.
Also Read: Nicki Minaj and Joe Jonas spice things up in the steamy 'Kissing Strangers' song video [WATCH IT HERE]
Brace yourselves for a jaw-dropping surprise. Posting two pictures, the rapper gave fans a good look at her mother on Sunday. First, she posted a picture of her mother dressed in a beautiful long black dress, wearing stilettos that made her fans rubbing their eye to confirm if that is Minaj or if it indeed was her mother.
Posting the picture, the rapper wished her mother and everyone following a Happy Mother's Day. She posted: "Yo how is my mother out here lookin like a snack? HAPPY MOTHERS DAY MOMMY!!!!!! I LOVE YOU, MY QUEEN!!!!! HMD to all the mothers all around the world."
In another picture, she posted hours later, Carol sits with poise in a stunning colourful short dress paired with pink heels, flaunting her long legs. The picture shared Minaj's Instagram account was captioned: You always was a black QUEEEEEEN mama!!!!! ~ this lady believed in me more than I could EVER believe in myself. From food stamps to black cards. HMD to all the moms in the world. You ARE APPRECIATED!!!! *Tupac voice* by CHANEL, by GUCCI."
Fans commented to compliment beautiful Carol and went on to even express that they couldn't tell the mother-daughter apart.
Instagram users shared:
DYMONBKUEHUND: I'm confused so is this u nicki or mama
Mrodub: Omg she's so beautiful more than i thought she was
Jay Day: I swear I thought that was u Nikki lol
Velda Rifka Almira: Damn ur mom is so looking young and hot
Nahjae: Omg twins Nikki you look just like her
Minaj, who has been busy with her new music launches for the past few days, looked like she took a day off and spent it with her mother.
What do you think? Don't they look similar? Let us know in the comments section below!