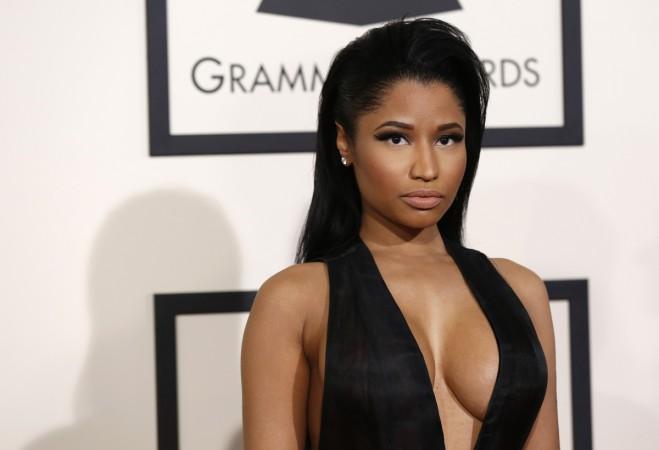 The fight between Nicki Minaj and Remy Ma shows no signs of ending, as the Anaconda singer took a shot at her nemesis at Atlanta's 107.9 Birthday Bash over the weekend. Minaj was dressed in a short leather dress that flattered her curvaceous figure and the plunging neckline highlighted ample cleavage.
Before she performed No Frauds, the Queens rapper sent an indirect message to Ma, shouting, "Make some noise if you have a hating-ass, fraud-ass b---h in yo life."
Also read: Belle bottom: Iggy Azalea kicks ass with some butt [PHOTOS]
This happened hours after Ma and Fat Joe took to the stage for their performance. Ma wasn't in the vicinity when Minaj delivered this message, and according to an Instagram post that has since been deleted, Ma was escorted out of the building before Minaj's performance.
"I know niggas is not out here trying to act like we were all in the same building and you was acting all tough and hardcorial," Ma said in the video. "First of all, nobody even looks at you like that. Do you know nobody believes you're tough like that?"
In the caption Ma also called out Minaj for supporting her older brother who has allegedly been charged with paedophilia.
"#WhyYouFrontingLikeYouDidSomething #YouWaitedTilHoursAfteriLeft #LikeUAlwaysDo #StopMentioningFelonsTilThatALLEDGEDPedophileGetOfTrial #NoFraudsFlopped #DrakeDidntLaughHePutHisHeadDownInTheVideo #TheRestOfThe3PackFromParisFloppedToo #WhyEveryTimeIExposeYouYouLeaveTheCountry #WhyDoYouHaveOnAFurInJune #InAtlanta #NobodyThinkingBoutYou #AndIMeanNOBODY #YouMadLonely #GetOverIt #SHETHER#???? #JustTakeTheL #WhatASoreLoser? #AreYouDumb #RemyMa #RemyMafia," Ma wrote.
While there seems to be no signs of Ma and Minaj's feud slowing down, Ma had previously hinted at a desire to put it behind her.
During an appearance on The Real in May, Ma expressed her desire to move on from the feud, saying: "The dust has settled. Some people don't get that the dust has settled, but I can understand. It's kind of hard to see the dust is settling when you're in the grave under the dirt," stated Ma.
She added, "I say all the time that I'm petty, but there's a thin line between petty and pathetic. You have to stop at some point."