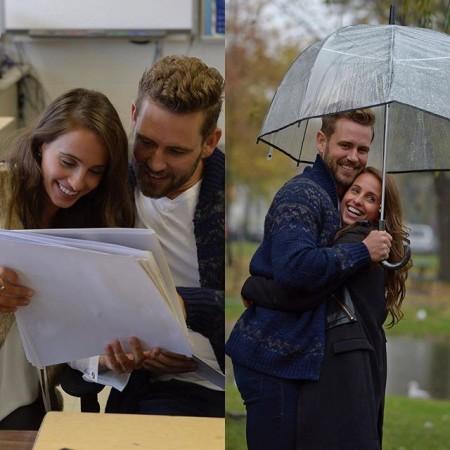 The Bachelor couple Nick Viall and Vanessa Grimaldi got engaged in late 2016, but they are yet to set a date for their wedding, and this has given rise to rumours that there's trouble in paradise.
But it looks like the couple is just taking things slow, and is committed to getting to know each other outside of reality television.
Also read: Jeremy Meeks' wife opens up about husband's affair with Chloe Green
"Nothing has changed," Viall told Us Weekly of the couple's decision to hold off on their wedding. He revealed this at Clayton Kershaw's 5th annual Ping Pong 4 Purpose at L.A.'s Dodger Stadium on July 27. "I think it's always important to take things slow."
Grimaldi, who is a special needs teacher, is also busy working on a charity project, and this is one of the reasons why they put marriage plans on hold.
"She spent a lot of time on her fundraiser, No Better You, and she raised a ton of money on her event in Montreal," Viall explained. "That definitely took up a ton of her time. I tried to help when I could. [We're] just trying to enjoy the summer."
Although Grimaldi is yet to start planning their wedding, she is clear about what kind of a ceremony she wants. "I think [I want] something simple," she told Us.
Viall and Grimaldi have been plagued by breakup rumours for a while now, but a HollywoodLife source revealed last month that the couple has already invested in a place together.
"Obviously like all couples they have their disagreements, it's real life and they're both very strong willed, but they always work it out. As far as the wedding planning it's not happening quite yet, they don't see any reason to rush, but they're happy and moving forward," the source revealed.