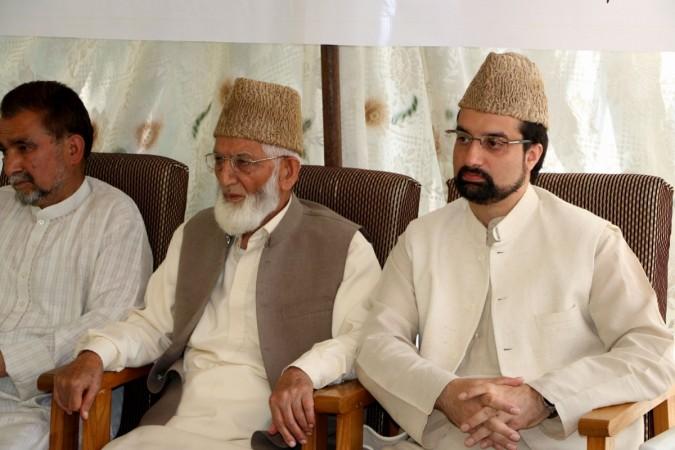 The National Investigation Agency (NIA) on Friday, May 19, registered a preliminary enquiry into the funding of Hurriyat leaders Syed Ali Shah Geelani, Naeem Khan and others in Jammu and Kashmir by Hafiz Saeed and other Pakistan-based terrorists.
Meanwhile, J&K authorities on Friday placed moderate Hurriyat group chairman Mirwaiz Umar Farooq under house arrest, just before separatist-called protests were to take place in Srinagar. The protests had been called in opposition of Dukhtaran-e-Millat chief Asiya Andrabi being detained under the Public Safety Act (PSA).
The developments come the same day as leader separatist Yasin Malik beat up two journalists who had approached him on the funding issue. Of recent, there have been a number of news reports that have exposed how Pakistani state and non-state handlers have been funding the separatist movement in Jammu and Kashmir and terrorists in Pakistan.
The NIA probe
An NIA team led by senior members is currently in Srinagar to probe the funding of Hurriyat, after a news channel aired clips of its leaders confessing on camera that they were being funded by state and non-state elements from Pakistan.
One of the more recent of these confessions was from moderate Hurriyat leader Geelani's colleague Naeem Khan, who reportedly said on camera that not only does the Hurriyat raise money domestically at times, but it could repeat the J&K unrest of 2016 — the aftermath of the killing of Hizbul Mujahideen leader Burhan Wani — if they could gather enough money.
As the news channel aired the expose, Khan reportedly paid a visit to the news channel's office in Srinagar and threatened reporters, besides demanding that the video be pulled from the channel and its website.
Yasin Malik thrashes journalists
Meanwhile, Jammu Kashmir Liberation Front (JKLF) leader Yasin Malik assaulted a woman journalist and the videographer accompanying hwe who had gone to him to get his version on the expose her channel was running. The channel later said Malik beat them up and also damaged their equipment as well as personal belongings.
Malik himself, on the other hand, has reportedly filed a police complaint against the news channel and the journalists, accusing them of entering the premises of his house and filming him without his permission.