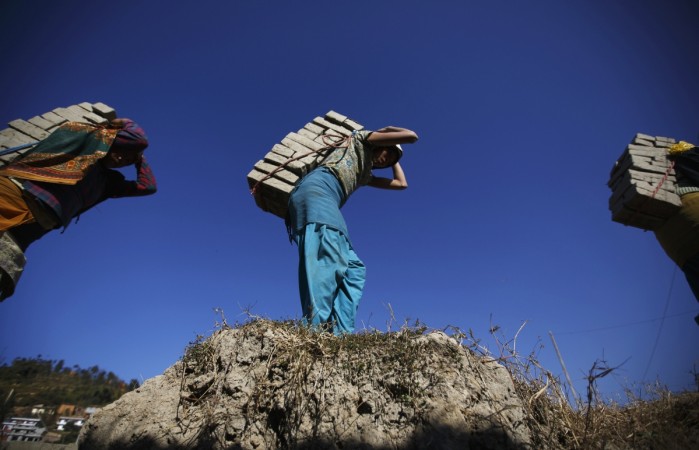 Child Rights and You (CRY), a non-governmental organisation fighting for the rights of children in India, has demanded that the Union government should ban employment of children below 18 years.
Currently, Indian legislation bans employment of children below 14 years from hazardous jobs.
CRY Regional Director for South India, Suma Ravi said: "Right now the legislation bans children under 14 years from hazardous job, but we demand a total ban till the age of 18 years. And the government has to focus more on generating livelihood for the parents," The Hindu quoted.
CRY has identified 675 Indian districts with considerable child labour and among them, 200 are marked as critical districts for child labour.
CRY has succeeded in freeing child labour in 83 villages in both Andhra Pradesh and Telangana, according to Suma. She told the media in Visakhapatnam on Wednesday, 3 September, that erstwhile united Andhra Pradesh ranked sixth in the country in child labour concentration after Uttar Pradesh, Madhya Pradesh, Maharashtra, Bihar and Rajasthan.
Telangana and AP accounts for 14.7% of India's total child labour. "In AP, we have identified about 10 critical districts and around 19 blocks and 481 villages in Telangana. And we have managed to ensure 4,620 children, covering 83 villages, were mainstreamed back into schools in these states," Suma added.
Improving the livelihood of parents, apart from social transformation, is the only solution to eradicate child labour in the country. Children's access to schools and their community level participation are key factors to address child labour issue in the country.
India's average child labour is said to be 4%, whereas AP alone has 5.5% of child workers, says CRY AP head Peter Suneel. He adds that AP has 1.66 million child labourers, and 91.1% of them are working in rural areas and the rest in cities and towns.
Secondary-level school dropouts in AP accounts for 45.7% and 15.6% in primary-level. To eradicate child labour in India, CRY advocates for a new and strong legislation by the Parliament, which bans children under 18 from working.
CRY also observed that child trafficking is prevalent in AP and the State government should be more vigilant to track offenders in the crime.