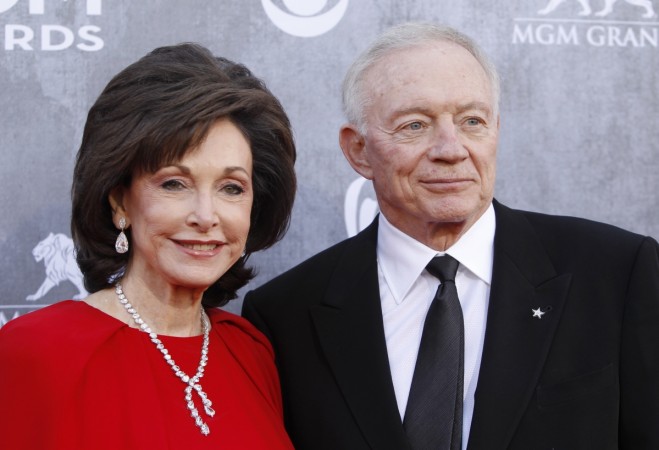 Dallas Cowboys owner Jerry Jones has been sued for sexual harassment by Jana Weckerly, a former exotic dancer, on Monday.
The 27-year-old, who is from Ardmore, Okla, has accused Jones of sexual assault and is seeking more than $1 million in damages. However, Jones' attorney has claimed it to be an extortion plot.
"These allegations are completely false," Jones' attorney Levi McCathern said.
"The legal complaint is unsupported by facts or evidence of any kind. This is nothing more than an attempt to embarrass and extort Jerry Jones. This is a shakedown by a lawyer who is a solo practitioner just trying to make a name for himself. The alleged incidents would have been more than five years old.
"We intend to vigorously contest this complaint and expect it will be shown for what it is -- a money grab. Due to the seriousness of these baseless allegations, we have also involved law enforcement."
Weckerly said Jones assaulted her in May or June 2009 and conspired to cover up the incident. According to Deadspin, Weckerly alleges that Jones "forcibly rubbed and/or grabbed" her breasts and made her touch his genitals. Weckerly also allegedly took pictures of Jones with two women that featured on the gossip website TerezOwens.com this summer.
"As the night progressed and alcohol kicked in, Weckerly became increasingly uncomfortable and continued to refuse Jones' advances," Thomas Bowers, Weckerly's attorney, said.
"Weckerly maintained sobriety and managed to escape Jones' hotel room by convincing everyone to go dancing."
However, Jones denied any such incident and said the pictures were a "misrepresentation" of events.
"Someone has misrepresented photos taken at a restaurant five years ago for their own purposes, and so I'm just not going to comment," Jones stated earlier.
Weckerly has also allegedly attempted suicide and suffered from depression as a result of the incident. The suit also claims that she suffered several injuries during the incident.