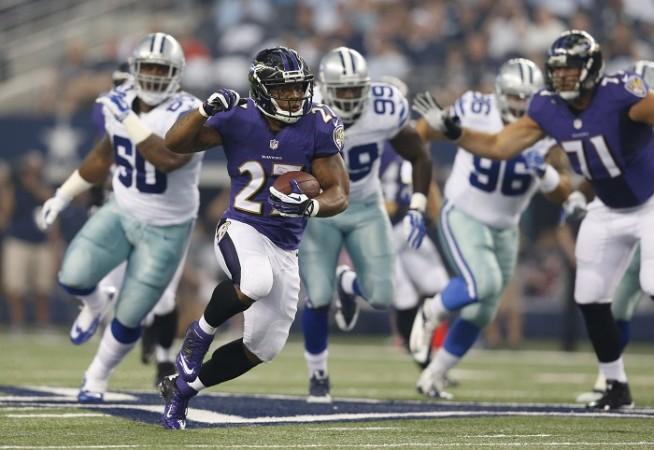 The Baltimore Ravens terminated Ray Rice's contract with immediate effect after a video of the running back seemingly punching his wife surfaced.
The Ravens had stood by their player, over the domestic abuse issue, but the video, released by TMZ Sports, which shows the 27-year-old knocking his fiancée Janay Plamer out, convinced the Ravens to take immediate action.
"The Baltimore Ravens terminated the contract of RB Ray Rice this afternoon," the NFL franchise said in a statement on Twitter.
The NFL also quickly suspended Rice indefinitely, "[NFL commissioner] Roger Goodell has announced that based on new video evidence that became available today he has indefinitely suspended Ray Rice," NFL's public relations chief Greg Aiello confirmed.
This is a major change in stance from the NFL, after the league only gave Rice a two-game suspension, which was roundly criticised from all quarters. However, Aiello insisted the NFL did not have access to the video which was released by TMZ on Monday.
"We requested from law enforcement any and all information about the incident, including the video from inside the elevator," Greg Aiello said. "That video was not made available to us and no one in our office has seen it until today."
Rice's former teammate and Baltimore Ravens legend Ray Lewis expressed his disappointment. "I was really...I'm disappointed," he told ESPN. "This is personal for me. I'm torn because this is a guy, a young man, that I really took up under my wing and tried to mentor to make sure that he had a successful career and stayed away from things like this.
"But seeing this video, let me be very clear, with going through this myself personally -- A man, should never, ever put his hands on a woman -- bottom line. So we can speculate about a lot of different things.
"But I think what we need to make sure is very clear is what we saw in this video was actually put his hands on a woman. And that's what is personal for me."
Even President Barack Obama reacted to the incident, with his press secretary releasing a statement. "The President is the father of two daughters," the statement read. "And like any American, he believes that domestic violence is contemptible and unacceptable in a civilized society.
"Hitting a woman is not something a real man does, and that's true whether or not an act of violence happens in the public eye, or, far too often, behind closed doors. Stopping domestic violence is something that's bigger than football -- and all of us have a responsibility to put a stop to it."
[Warning, video is pretty graphic]