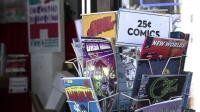 A newspaper vendor who was arrested in Mumbai by the police on Wednesday night for selling the 17 January issue of an Urdu daily Avadhnama that carried the controversial cartoon of Prophet Mohammed originally printed in French satirical magazine Charlie Hebdo, has been granted bail with a security of ₹7,000.
A case was registered against him under Section 295 of the Indian Penal Code, IBN Live reports.
The arrest was made on the basis of a complaint lodged by a local masjid committee member Riyaz Chale, who said the vendor sold the issue despite knowing that the cartoon would hurt religious sentiments.
A case against the vendor has been registered under Section 295 of the Indian Penal Code.
Meanwhile, Shireen Dalvi, editor of the daily who was arrested on 28 January on similar charges and subsequently granted bail, got relief when a Mumbai court extended her bail till 10 February.
She had also apologised in a blog post for publishing the cartoon.
In her blog that she wrote for a TV news channel, she said: "It was a mistake and I had no intention to hurt the feelings of my community. Like any other Muslim, I deeply respect Prophet Mohammed - sallallahu alahi wa sallam - Peace be upon Him," she said, according to PTI.