South Africa has once again lost in a crucial knockout stage at ICC Cricket World Cup and their dream to lift the cup this time around has been shattered. They lost the semi-final match against New Zealand at Auckland on Tuesday, 24 March.
The Proteas failed to enter the last stage despite putting their best efforts. Even though the South Africans had a big chance to enter the final, the team could not make it as the Kiwis defeated them in the last over.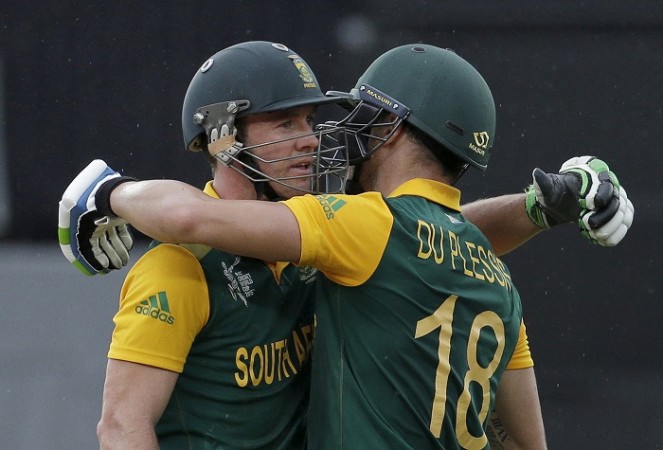 Nonetheless, South African team's performance has been appreciated across the world. Twitter users have praised the sportsmanship spirit of both the teams, and AB De Villiers' good captaincy and matured words at the press conference have also been lauded. Below, we bring you some of the selected comments and supportive posts:
Abhishek Sribi Wrote: For the first tym in my life I felt happy for missing a world cup match telecast... Becoz I cant just watch ABD crying... :'( #NZvSA
Pooja Jain Tweeted: ABD is Legend, without a trophy. Very few times, you feel the pain when others lose. And, everyone felt it when #SA lost #NZvSA
BURHAN Wrote: Meanwhile, All south African fans were listening "Ja Bewfa ja tujhe pyar nhi karna" #AltafRaja #NZvSA
Madiha Khan Posted: So much Passion towards the game made them cry. This World Cup will be remember for long time. #NZvSA
#TEAMGENISIS Wrote: #NZvSA one of the greatest games ever played with the right spirit. No sledging and fierce competition. Well done both teams.
AAPkSaath Posted: SA is to World Cup what Leonardo DiCaprio is to Oscars. Huge Potential, but never win! #NZvSA
Dominic Laurie Wrote: Watching highlights of #NZvSA can't believe NZ had five slips in 8th over to get 3rs wicket. So imaginative of captain. Were so far behind.
Avro Serializer Tweets: Cricket does not create sportsperson,it actually creates rare characters and true legends.Long live cricket! #NZvSA
Amin Ali Wrote: Didn't blame DL, rain or fielding, praised the crowd, wished teams good luck n walked away teary eyed. @ABdeVilliers17 you're a CHAMP #NZvSA
Berges Bana Posted: Wat plays on your mind can act as a deterrance to your performance. The fear of failure once again haunts the mighty S.Africans #NZvSA
1 retweet 1 favorite
Dinesh K Wrote: @cricketworldcup : Don't lose hope my dear bros :) you are from the land of Nelson Mandela sir. #NZvSA
Yudi Shrivastava Posted: Whole india cried when @ABdeVilliers17 cried you are hero no matters what u lost but ur still our champ in our hearts #thankyou #NZvSA
Rahul Wrote: I think now everyone agrees ..the only way to stop @ABdeVilliers17 is to bring RAIN on d field #NZvSA
Riz Khan Posted: AB U R still a CHAMPION, the Rain God did not want you to WIN.. Cheer Up, u hv WON countless Hearts #NZvSA
Avro Serializer Tweeted: Yes he lost in sports but He'd nevr lose the trait of a sportperson.He is a champion and he'll remain.Period.#NZvSA
Swami Posted: Accepting defeat gracefully is called sportsmanship, Bangladesh need to learn it from South Africa #NZvSA
Kamal Kant Wrote: Superman do cry can feel pain of SA Don't loose hope @ABdeVilliers17..... Next Time World Cup is going to SA #NZvSA
This One Photo Proves Cricketers Are The Ultimate Gentlemen http://t.co/Hlvs2AobFC via @MarkDiStef #NZvSA pic.twitter.com/xCEtYLe9Bd

— BuzzFeed Australia (@BuzzFeedOz) March 25, 2015
.@BLACKCAPS The really bad lunchtime photoshopping continues post #NZvSA pic.twitter.com/M1ABFvePi3 — craig lucinsky (@louis_slugso) March 25, 2015
#NZvSA He is One & Only Lucky South African who enjoyed the joy of winning Cricket world cup . Thanks to India. pic.twitter.com/cZCVhvtGgg

— vivs (@sweetberies) March 24, 2015
Things that should have, but haven't happened. #NZvSA pic.twitter.com/V9xzfmCwef — CHETAN PANDEY (@ConsciousPandeY) March 24, 2015
Deep RT @tanvisharma211: But legends do not need trophies ^_^ #NZvSA pic.twitter.com/9755ejATr3

— BucsGhost (@KDmzwandile) March 24, 2015
"Dear @ABdeVilliers17 this is not the end, We want you to lift the trophy for your nation." - Words from INDIA #NZvSA pic.twitter.com/FtaDdVQDB4 — Aravind Samy (@Arvindsamy5) March 24, 2015
Yesterday was the match where both the teams showed true sportsmanship..!! #SA #NZ #NZvSA #CWC15 ✌ pic.twitter.com/0r6XxTMoPY

— #WontGiveItBack✌ (@ashi_zaveri) March 25, 2015