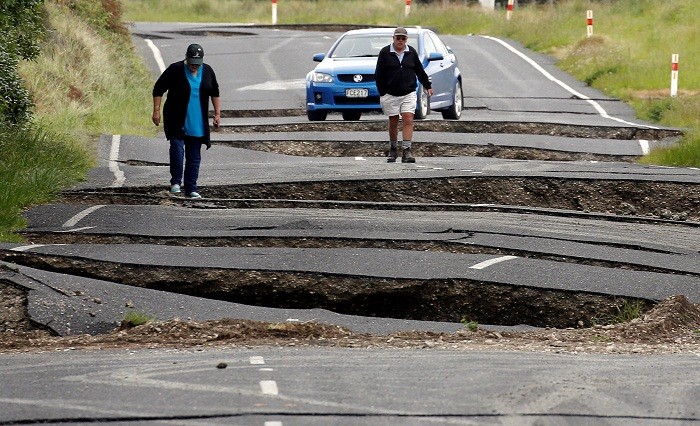 The Pakistan players are presently in New Zealand for the upcoming Test series, starting Thursday. The cricketers were in a state of shock with the midnight earthquake (12.02am local time) in Christchurch, which rattled them. The players woke from their sleep, and rushed down from the sixth and seventh floor of the hotel, where they were staying.
Pakistan coach Mickey Arthur explained the 'scary' scenario during the quake.
"It was about midnight and everything started shaking and we were on the sixth and seventh floor of the hotel - so yeah, it was pretty scary," newshub.co.nz quoted Arthur as saying.
"The boys raced downstairs, and most of the guys actually slept down in the team room as they were too scared to go back to their rooms. An earthquake and a tsunami warning - it's all happened for us, you've really turned it in for us here in New Zealand."
Pakistan team manager Wasim Bari explained that the quake was strong and their families in Pakistan were worried, when they heard about the earthquake in New Zealand.
"For us, it was something new, because we don't have many earthquakes in Pakistan. This was a pretty strong one. We'd just finished watching the India-England match and the doors and windows were going from one side to another as if they were made of paper. There was some trauma as well for the boys. Back home, the families had felt disturbed," ESPN Cricinfo quoted Bari as saying.
The 7.5 magnitude earthquake was felt Monday midnight in Christchurch, and the fear of Tsunami began increasing every minute. The officials, fearing the worst, warned of the incoming Tsunami danger, which came two hours after the quake. The earthquake led to landslides as well, and roads connecting towns and cities were also cracked open.
Aftershocks of the quake were felt across the region till Monday morning, and two people are said to have been feared dead so far.
Despite the massive earthquake, the first Test match between Pakistan and New Zealand in Christchurch is expected to go ahead as scheduled. The preparations for the Test are going on, and the New Zealand cricket officials are keeping a tab on the situation.