Chinese smartphone-maker Vivo seems to be on a roll. Just last month, at CES 2018, the company unveiled Vivo X20 Plus UD — the world's first smartphone with an in-display fingerprint sensor.
Not long afterward, rumors started doing the rounds that the company hads already started working on its next smartphone, called Vivo X30, which is said to come with an iPhone X-like design sporting the notch on the top bezel.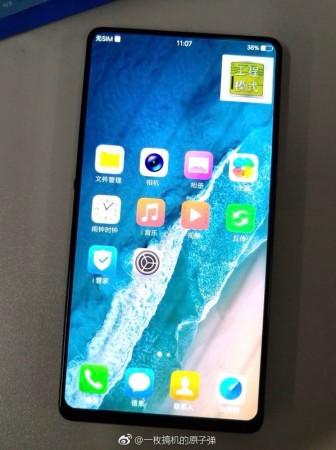 Now, a leaked photo of a mysterious Vivo smartphone has popped up Chinese social media site Weibo. The leaked image shows a smartphone with zero bezels and an almost 100 percent screen-to-body ratio — without the notch at the top.
From what we can see in the rather sketchy leaked image, the top and side bezels on the phone are extremely thin, just like those on Xiaomi Mi Mix 2 (REVIEW). The front panel is mostly taken up by the screen with no sign of any obstructions like an earpiece and front-facing camera, or even a fingerprint sensor at the front.
Since Vivo already has a smartphone with an in-display fingerprint scanner (X20 Plus UD), it is likely that this smartphone also features an in-display fingerprint sensor. It's also possible that the front-facing camera has been moved to the bottom bezel of the phone, as the bottom bezel appears slightly bigger than the top bezel.
However, we cannot be absolutely sure about all the placements, since the quality of the image is not very good and we cannot make out any camera or sensor inlays. So, take this information with a pinch of salt.
Nonetheless, it will be interesting to see how and where Vivo has hidden all the sensors and the front camera.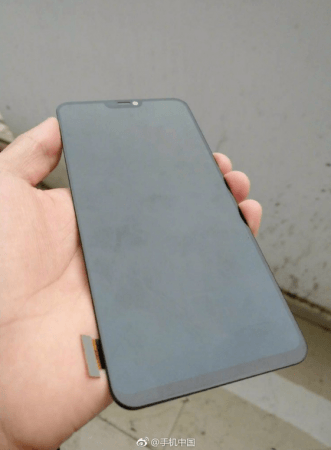 Having said that, it is highly unlikely that this "notch-less" smartphone could be the rumored Vivo X30, since the X30 display panel had been leaked earlier — showing a tiny notch on top (see image above).
However, it is possible that this smartphone could be Vivo Xplay 7, which is also rumored to be the world's first smartphone to feature 10GB of RAM and 512GB of internal storage. Or, it could turn out to be a concept device at worse. Both ways, we'll keep you posted with the information about this interesting device as we get it.
Source: Weibo