Reliance Jio has had many firsts to its credit, not only was it the first telecom operator to launch 4G VoLTE services in India, but it also launched several add-on services in the MyJio app. And now, Jio has added an interesting new feature to the MyJio app that makes accessing the app all the more easier.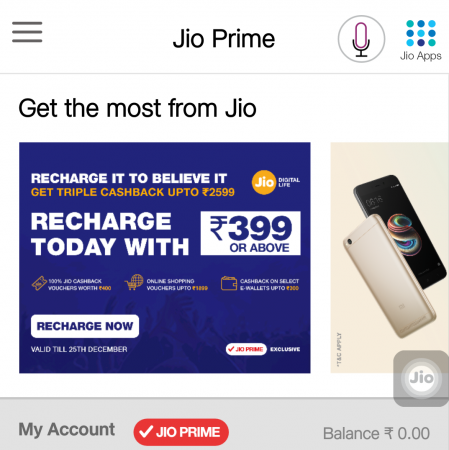 Reliance Jio has added a digital voice assistant feature called 'HelloJio' inside the MyJio app, and the best part about Jio's new voice assistant is that you can use it in both Hindi as well as English.
To recall, Reliance Jio had introduced 'HelloJio' voice assistant with the Reliance JioPhone earlier this year. But while that was limited to JioPhone users, a new MyJio app update brings 'HelloJio' feature to all Jio customers.
How to get 'HelloJio' voice assistant on your phone
To get the new feature, you will need to update the MyJio app from Google Play Store. After you update the app to the latest version, you will see a 'mic' icon at the top right corner – next to the Jio Apps menu - just click on the mic icon and you will be greeted by the HelloJio voice assistant.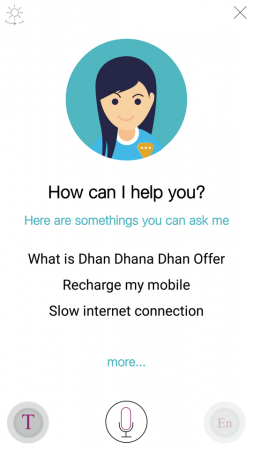 Additionally, the HelloJio voice assistant does not require any voice training like Google Assistant. You can choose the language of your preference – either Hindi or English – and you're set to go. You can also switch between the languages by using the toggle button at the bottom right of the 'HelloJio' screen
Sadly, there's no way to activate the 'HelloJio' voice assistant remotely with your voice. You will have to click on the 'mic' icon each time you want to use it. But to make things a little easier, the update adds a floating icon (with Jio written on it) to your phone's home screen which will take you to the HelloJio screen once you click it.
What can 'HelloJio' voice assistant do?
HelloJio can do a lot of things, but its functionality is limited only to the MyJio app and it performs actions which are related just to the MyJio app. For instance, you can ask the assistant to recharge your number by saying 'recharge my number,' and it will take you to the Jio tariff plan selection page.
However, it will not select a recharge plan even if you tell it to recharge with a particular plan. For example, if you ask the assistant to 'recharge with Rs 459 plan,' it just doesn't take you directly to the payment page. This is understandable as it's programmed to perform just a set of tasks unlike Google Assistant or Apple Siri.
Apart from that, you can also know the status of your Jio number like your data balance, check how many calls you've made and ask other Jio account related queries. It can also perform tasks such as opening certain apps, making voice calls, sending SMS, playing music, and even setting up an alarm.
Meanwhile, Reliance JioPhone recently became the world's first feature phone to get Google Assistant support.
Note: The new update carrying 'HelloJio' feature has not been rolled out to all devices, but will be available in the coming days.