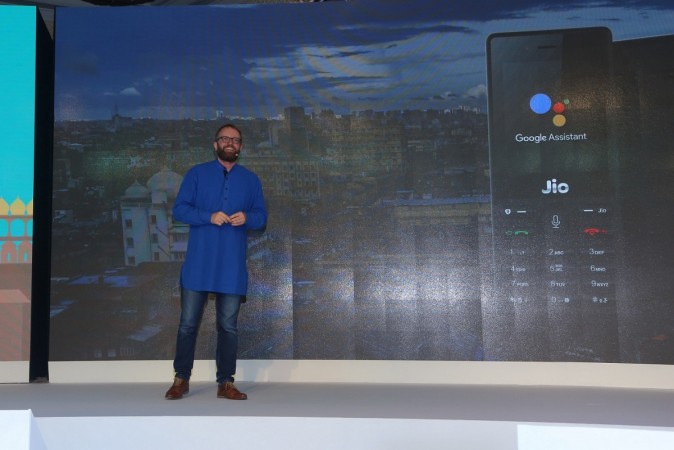 When Reliance Industries Limited (RIL) launched the JioPhone as the first 4G VoLTE-enabled feature phone, one of the biggest features was the digital voice assistant called "Hello Jio."
While the demo on the stage worked perfectly, we briefly tested Hello Jio and found it to be accurate but slow.
"Hello Jio" mimics the popular Google Assistant by carrying out users' voice commands. But Google's "Ok Google" function in Android-powered smartphones is efficient, fast and intelligent.
As it now appears, the world's largest web search engine has partnered with Reliance to bring Google Assistant on JioPhones.
Google Assistant is already available on iOS, Android Wear and Android smartphones, but the digital assistant's availability on the JioPhone is a significant move as it will now reach the masses.
JioPhone is in popular demand for its 4G VoLTE support on a feature phone and for being essentially free. By making Google Assistant available on JioPhones, Google can reach customers it wouldn't have otherwise.
Google Assistant will be available for all JioPhones starting Tuesday, without users having to manually update their phones. There's going to be a dedicated app for the Assistant, with the help of which JioPhone users can talk to Google's AI-powered digital assistant.
What can you do with Google Assistant on JioPhone?
What Google Assistant can do on a smartphone is practically known to everyone, but its functions are limited on JioPhone.
Google has promised to add new ways to help users get things done using the Assistant, but JioPhone will immediately help with the following:
Get answers to your questions
Find local information
Play music and videos
Change settings on your JioPhone
Connects to apps like Google Search, YouTube and MyJio apps
There's more...
Besides all this, JioPhone users are going to love Google Assistant for its support for Hindi language.
"Thanks to natural language processing and voice recognition, Indians can have a conversation with their Google Assistant in Hindi to get things done. This is the first time that a version of the Google Assistant becomes available on a phone in Hindi," Google said.
Google Assistant for JioPhone is built from the ground up and customised to work on a smaller 2.4-inch screen. It's going to be interesting to see how users respond to this integration when there's Hello Jio already being offered to them.