In the ISIS-stronghold of Raqqa, the militants have put up several propaganda posters across the city. These billboards have taglines that promote militant recruitment and advocate the need for jihad.
On several ISIS-affiliated Twitter accounts, a new set of leaked images from Raqqa were released earlier on Thursday. These cache of photographs gives outsiders a glimpse into the dark realities of life under ISIS.
Dozens of such high-quality billboards have been put up inside the city and all of them proclaim the necessity of jihad and the need to abide by Sharia law.
Raqqa was the first provincial city to be captured by the Syrian rebels in March 2013, however, by late October, the town fell under the control of militants. Since then Raqqa has remained a stronghold of the Islamic State front.
One of the high-quality billboards in Raqqa talks about the resilience of the Islamic State. An ISIS militant holding an AK 47 stands 'stoically' in the propaganda ad, while in the background several fighter jets belonging to the US-lead coalition forces are seen dropping bombs. The tagline on the banner says in Arabic: "We will win despite the global coalition."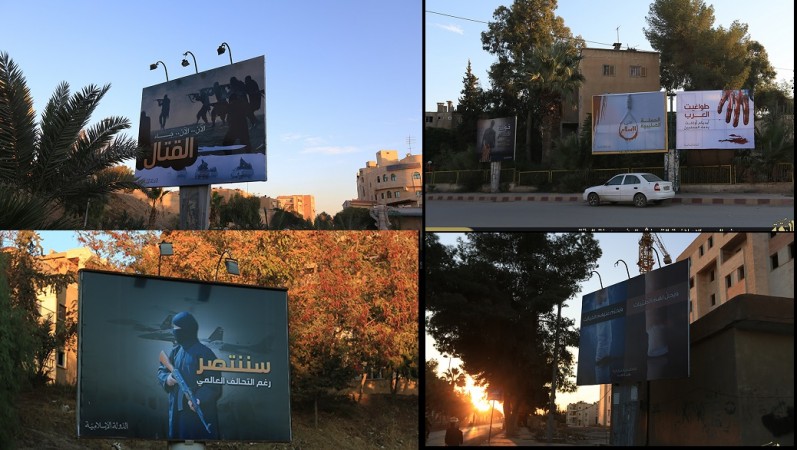 There are also several other ISIS propaganda billboards that question the stance of the Muslim countries that have declared war against Islamic State. One of them shows a noose stained with blood, while another has two hands washed in blood. The tagline of the ISIS propaganda banner reads: "The hands of Arab rulers are stained with Muslim blood."
ISIS that has strictly put a ban on smoking in all the areas under its caliphate, has also put a huge billboard asking followers to stop smoking and instead cleanse it with Miswak - twigs of certain trees that are used on a regular basis by Muslims to cleanse their mouth before uttering the verses from Koran.
The group also runs dozens of recruitment camps for children, known as "Cubs of Islamic State." Reports indicate that several young teenagers have been recruited by the group from Raqqa for fighting in the Kurdish town of Kobane.