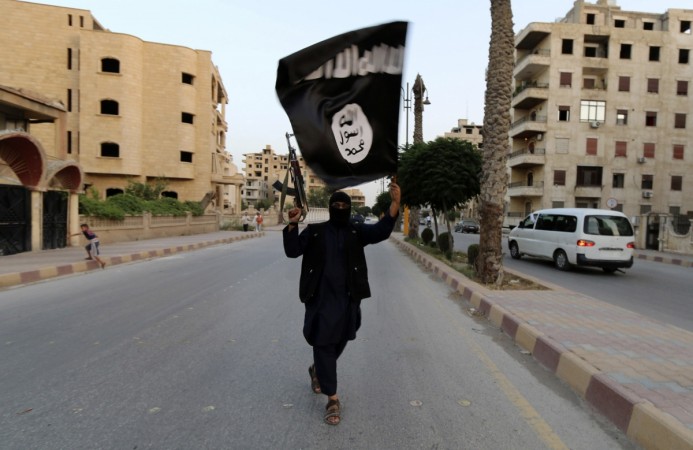 A New Jersey Muslim man has hung an ISIS-like black flag outside his house, claiming he is just expressing his religous freedom and his intentions are not anti-American.
The appearance of the black flag, similar to one used by the Islamic State jihadists, in a residential locality in Winslow Place Garwood has sparked a major debate online, following which many complained to the local police.
Scary! Seen this morning at 117 Winslow Place Garwood, New Jersey: #ISIS #Turkey #Terrorism #Jihad @DHSgov @FBI pic.twitter.com/cOov774tMN

— Marc Leibowitz (@Marc_Leibowitz) August 12, 2014
The police was then forced to pay a visit to the Muslim family living at 117 Winslow Place Garwood.
"This is just me expressing that I am a Muslim, that's it," CBS quoted Mark Dunaway.
The local residents claimed that Dunaway has flown the flag for at least 10 years during each Ramadan and on Fridays when he goes to the mosque.
The Islamic State, which is waging a war of terror in Iraq and Syria - and known for its brutal methods of executions and killings of minorities, also use the same flag.
"I understand now that people turn on CNN and see the flag associated with jihad, but that's not the intention of that flag at all," Dunaway told NJ.
"It says 'There is only one god, Allah, and the prophet Muhammad is his messenger.' It's not meant to be a symbol of hate. Islam is all about unity and peace. I am not a part of any group like that, and I'm not anti-American. I love my country, but I am a Muslim."
However, following the public outcry, Dunaway replaced the black flag with a San Diego Chargers flag and a red Islamic flag.
Earlier this week, the supporters of Islamic State were seen on the streets of London, calling on people to support the group's leader and self-proclaimed Caliph Abu Bakr al-Baghdadi.
The ISIS supporters on Oxford Street distributed pamphlets, which urged everyone to "spread the Khalifah [Caliphate] across the world".
Image of ISIS supporters handing out pro-ISIS propaganda in Central London - pic.twitter.com/5X5oOne3uA — Ghaffar Hussain (@GhaffarH) August 12, 2014