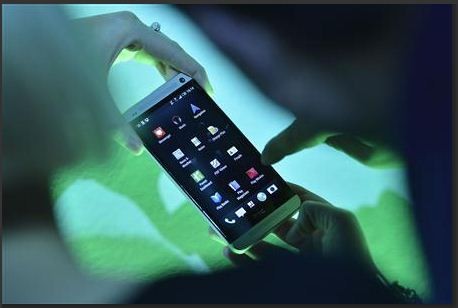 A new image, purported to be that of HTC One Mini A.K.A HTC M4, has popped up online, pointing to the imminent arrival of the much-anticipated smartphone.
Speculations about the Taiwanese smartphone maker working on the smaller version of its hot-selling HTC One smartphone have been swirling around for quite a while. Now the folks at Engadget have released a new image which showed the device alongside its big brother HTC One in identical colours.
The fresh batch of leaks goes well with earlier rumoured features of the phone. According to reports, the device is likely to come with a 4.3-inch HD display with 720 pixel resolution and is expected to be powered by a 1.4GHz dual-core processor. Other stipulated features of HTC M4 include Android 4.2.2 Jelly Bean with Sense 5.0, 2GB RAM, 16GB of internal storage and a 1,700mAh removable battery.
HTC One Mini is also expected to pack the same aluminium chassis seen in HTC One. Though not much has been said about the image shooter, the device is speculated to sport a camera of the UltraPixel variety. Reports suggest that the smartphone may arrive sometime in August.
According to a Bloomberg report which cited two sources close to the matter, the smaller version of HTC One will make its debut in summer.
"The new model features a 4.3-inch screen, compared with 4.7 inches for the original version, and will go on sale by August, according to two people briefed on the plans who asked not to be identified because details aren't public. The device will probably have a less-powerful Qualcomm Inc. (QCOM) processor and lower-resolution screen than the flagship, said one of the people," reported the website.