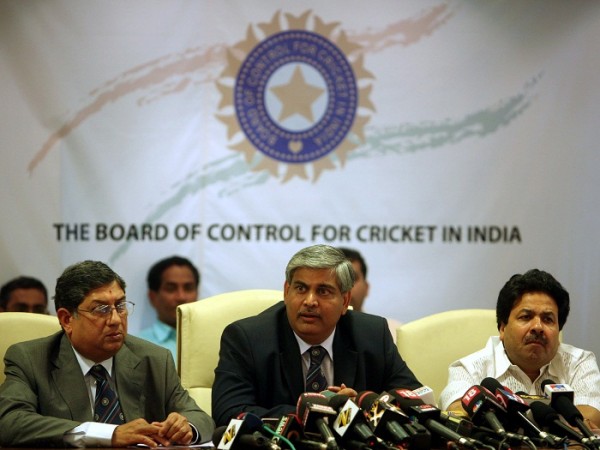 The Board of Control for Cricket in India (BCCI) is the richest board in the world, and earns massive revenues from sponsorship and various other deals. But their income could be severely hit if the new ICC revenue model, proposed by president Shashank Manohar, comes into play.
As per the PIL filed by an ex-CBI director RK Raghavan in the Madras High Court, the BCCI have a deal, which helps them earn 21% gross revenue -- generates to Rs 3,400 crore -- from International Cricket Council (ICC) for the broadcast cycle of 2015-2023. But, the board will only receive Rs 2400 crore due to the Shashank Manohar's -- ICC chairman and BCCI chief -- offer of a 6% cut in the sharing model. The PIL even stated that the next broadcast deal could lead to even lesser money due to this model in the future.
"It remains a mystery as to how the BCCI chief Shashank Manohar could on his own propose such a monumental reduction in the BCCI's revenue from ICC funds guaranteed by contract, and get authorized to negotiate downward revision with other ICC members, as if there is some imminent threat to the fortunes of BCCI," said the PIL, as reported by The Times of India.
RK Raghavan and seven others, who had filed the PIL, do not want the BCCI to adopt such a policy, which will lead to them receiving a share less that than what it was originally settled for - 21%.
Various cricket boards from around the world had agreed to pay some percentage of the ICC revenue to the BCCI as most of the revenue came from India.
A special BCCI SGM meeting, which took place in February, led to the board going for the reduction of six% of the revenue share. Manohar's decision to do so was to protect the other cricketing countries from being frozen out, in terms of revenues, as the "Big Three" proposal, brought out by former ICC chairman N Srinivasan, would have led to the BCCI, ECB and Cricket Australia taking the bulk of the revenues, which in turn would have hurt the progress of cricket as a global sport.
The First Bench of Chief Justice S.K. Kaul and Justice S. Vaidyanathan feels that such things cannot be undertaken via a PIL petition, as it is an agreement between two private parties.
They asked if the petitioners wanted to withdraw the case as well, even though the bench has posted the case to April 20.