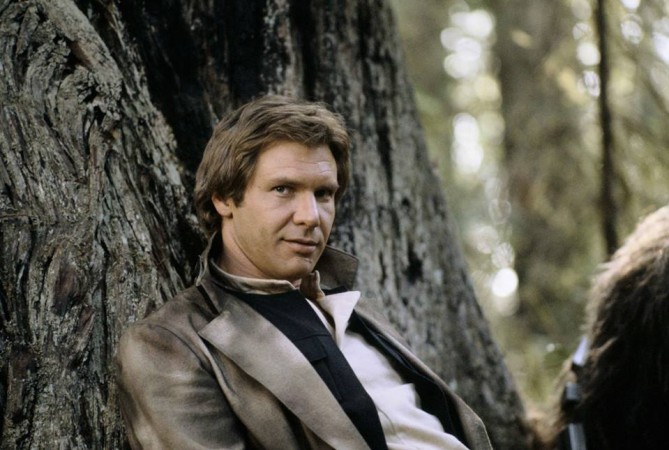 As we know that the new Han Solo movie is in production, Star Wars fans are now eagerly waiting for any update on the storyline of the movie.
Also Read: Han Solo origins movie has just got a working title, and it'll blow your mind!
And, Disney CEO Bob Iger has dropped some hints saying that the Han Solo movie will cover a span of seven years -- Han's life from 18 to 24. It will show him acquiring his iconic ship Millennium Falcon and how he met his partner Chewbacca.
Iger reportedly revealed that the film will include "acquiring a certain vehicle and meeting a certain Wookie." He further added, "You'll also discover how he got his name."
It was previously revealed that the film will follow the life of young Han Solo -- how he became a smuggler, thief and scoundrel whom Luke Skywalker and Obi-Wan Kenobi first encountered in the cantina at Mos Eisley.
But if one notices Iger's theory carefully, then it mentions Han Solo "getting his name." So, what does it mean actually? Isn't Han Solo his real name? Well, fans have to wait for that until the answer is found.
Han Solo movie will follow him from age 18 through 24 and show him finding the Falcon, meeting Chewbacca, and getting his name, Iger says

— Ben Fritz (@benfritz) March 23, 2017
The film will feature Alden Ehrenreich as Han Solo, Donald Glover as Lando Calrissian and Joonas Suotamo as Chewbacca. Woody Harrelson is reportedly playing the role of Han's mentor, a man by the name of Beckett, while Emilia Clarke, Thandie Newton, Michael K Williams, and Phoebe Waller-Bridge have been cast for unknown roles.
The movie is named as Red Cup (working title) as revealed by director Chris Miller in January. The film was previously called Untitled Star Wars Han Solo Anthology Film.
Directed by Phil Lord and Chris Miller, the Star Wars spin-off movie will open in theatres on May 25, 2018.