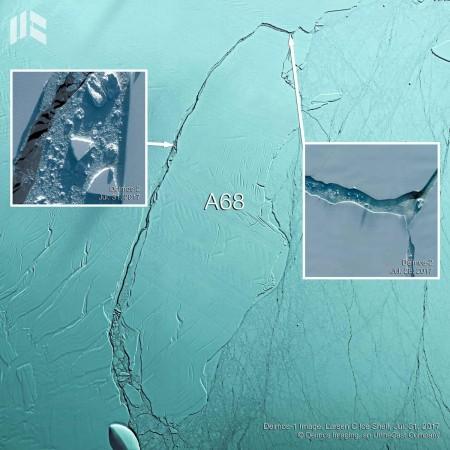 New photos of Antarctica's 1 trillion ton iceberg has been captured in satellite images which provide a detailed view of the continent.
Here are top 5 things to know:
These stunning new images were captured by Deimos Imaging; the photos portray the eastern Antarctic Peninsula in great detail.
The continent had lost one of the largest chunks of its icebergs from the Larsen C shelf around mid-July. This piece of the iceberg was huge enough to cover the US' state of Delaware, which has a size of around 5,130 sqkm.
A campaign was launched by the Deimos Imaging to administer the Larsen C Ice Shelf as well as the newly formed A68 iceberg with the help of a Spanish Earth imaging satellite -- Deimos-1 and a remote sensing Earth observing satellite – Deimos-2. This is very helpful in assessing the precise environmental alterations taking place in the Larsen C shelf of Antarctica.
The A68 iceberg spreads over an area of around 5,800 sq km, which makes it around four times bigger than the Greater London area.
The Larsen C shelf has now turned 12 percent smaller in size over the past two days. The process of regeneration will continue. The ice shelf is now less stable than pre-calving and it may destabilise too like Larsen B did in 2002 after calving in 1995, this is a major cause of concern for the scientists.