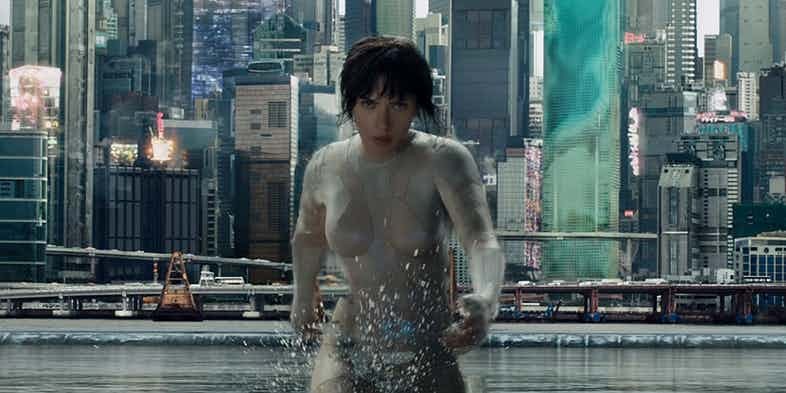 As we inch closer to the release of the Ghost in the Shell movie, Paramount Pictures has released a sneak peek video which reveals the epic water fight scene in the movie.
Also read: Ghost in the Shell ad campaign goes viral for all the wrong reasons as fans mock Scarlett Johansson for playing The Major
Though we have got a glimpse of the water fight scene in the trailer released earlier, these new clips reveal more.
In the epic water fight scene, Johansson's Major is seen combating a low-life. The Ghost sends this man flying back farther and farther with her powerful punch and kick.
The studio has also released two other behind-the-scene clips. One of the clips reveals director Rupert Sanders' thinking that went into the film. Scarlett Johansson called the director a 'visionary', and praised him for paying homage to the world of manga books and anime films while leaving his 'fingerprints' all over it. Sanders also took a moment to appreciate the legacy left by Massume Shirrow, the man behind the original manga comics.
The second clip previews the iconic shelling sequence. The director described how they actually built a real skeleton for the scene. Rob Gillies, the workshop and shelling sequence supervisor gave a brief explanation on the process of skeleton making.
Ghost in the Shell follows Major, a special ops, one-of-a-kind human-cyborg hybrid, who leads the elite task force Section 9. Devoted to stopping the most dangerous criminals and extremists, Section 9 is faced with an enemy whose singular goal is to wipe out Hanka Robotic's advancements in cyber technology.
The cast of Ghost in the Shell includes Scarlett Johansson as Major, Takeshi Kitano as Daisuke Aramaki, Juliette Binoche as Dr. Ouelet, Michael Pitt as Kuze, Pilou Asbæk as Batou, and Kaori Momoi. The movie will release in theatres on March 31, 2017.