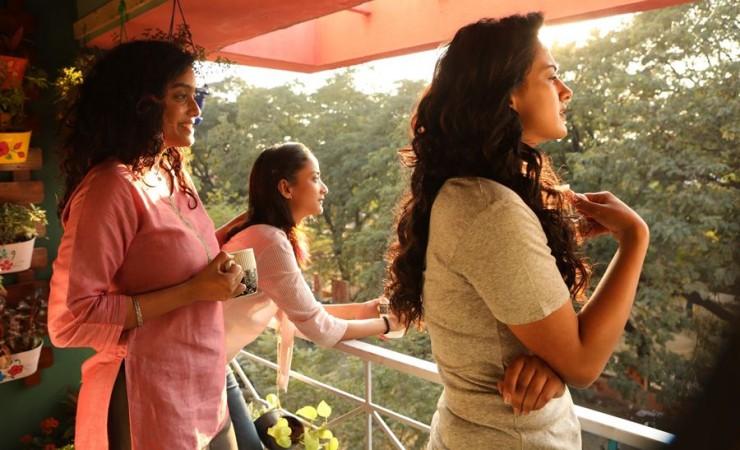 Legendary actress Sridevi Kapoor's wish to remake Bollywood movie Pink in Tamil has become a reality with the efforts of her husband-producer Boney Kapoor and Tamil actor Ajith Kumar. The talks for remaking the flick started when she was alive, but she passed away before the launch of the film titled Nerkonda Paarvai.
Story:
Nerkonda Paarvai, which is releasing on Friday, 8 August, revolves three women Meera Krishnan (Shraddha Srinath), Famila (Abhirami) and Andrea (Andrea Tariang). On a fateful day, the three go out with their friends for a party, but land in trouble when the men persuade them to have sex.
In a bid to escape from the unexpected situation, they assault one among the three men and what follows next is a court-room drama where a lawyer Barath Subramani (Ajith Kumar) fights for the women, who are facing false charges against them.
Analysis:
Nerkonda Paarvai holds mirror to the men and exposes prevailing misogyny in the society. It brings out how victim-blaming has become a norm in the country and the rules are different for men-women. Indeed, the film tries to educate people understand the concept of 'consent.'
This is, undoubtedly, one of Ajith Kumar's best movies in his career as Nerkonda Paarvai tries to address a serious issue bothering women. In fact, viewers are of the belief that there was a kind of lethargy in Thala's performance in the last couple of films as filmmakers were not trying to exploit his true potential, but in his latest flick he has given such a performance which his fans were missing for years.
Shraddha Srinath has given her best shot as the victim of sexual assault. She is on fire in the character. Likewise, Andrea and Abhirami too have done justice to their roles. And scenes involving Ajith and Rangaraj Pandey have come out well.
Average Ratings Given by Audience: 3.5
The movie has been premiered for the critics and cinephiles a few days ago from which it has already garnered positive reviews.Now, it has to be seen how the conservative Tamil audience will respond to the bold content in Ajith Kumar-starrer. Check out the viewers' response below:
Prem Kumar: #NerKondaPaarvai is one of the most important films in recent times. #Thala Ajith sir is fantastic on and off court! #HVinoth has done a great job! ☺️ Please watch it. And yes, NO means NO. Best wishes
@BoneyKapoor @thisisysr @ShraddhaSrinath and the entire team!
Shyam Prasad: #MuniratnaKurukshetra better than expected. Protagonist Duryodhana was missing from most of second half due to story writer Muniratna's interpretation of Mahabharata. Detailed review this evening.
Shashi Prasad: #Kurukshetra It's Challenging Star @dasadarshan in the first and #Abhimanyu forced in the second half. CG graphics as expected. Overall, a decent show in the end. My take for the attempt minus the flaws
Arvind Raja: This movie is not only for girls. It's important for both boys and girl Hats off thala ajith for this movie Thanks to all entire team(NKP)
Annamalai (Suchu): #NerKondaPaarvai - Liked it much. After a long time a court film with powerful dialogues. #Thala acting was diff & super. Also love d mass scenes. Great team work & performances. NO MEANS NO. Congrats & all d best team.
Rohit Venkatraman: #NerKondaPaarvai - #BharathSubramanian is here to stay to receive immense respect from the audiences & to be very precise the cross examination sequence with
@ShraddhaSrinath brought out the best in #Ajith in recent times. Extremely grateful to dir #HVinoth for making it happen.
The fact that a film like #Viswasam did not work for me beyond a certain level but #NKP guarantees repeat views for sure. Confidence level automatically goes up to expect something extraordinary with #Thala60 with the way #Vinoth had presented this film to Tamil audiences.
Saravanan M: #NerKondaPaarvai A million thanks to #Thala for choosing #pink remake. At least few people will change their mindset about women after seeing this movie. #Thala's offscreen image is reflecting in onscreen nowadays. Proud to be a #Thala fan #எண்ணம்போல்வாழ்க்கை
Bigboss3_Alapparai: #NerKondaPaarvai what a movie, No words to describe about #Thala what a settled and matured performance wow. After watching this movie so many of them will definitely change their mind set over "Independent womens in society" Huge respects for womens and Dont miss the movie.
kishore: #NerKondaPaarvai - Blockbuster stuff. #HVinoth is the best thing that has happened to #Thala #Ajith in the recent times.
Ajith sir has literally set the screen on fire with his terrific performance.
This one is 200 percent sureshot!
A2 Studio: #NerKondaPaarvai: Marana Masss #Thala #Ajith Screen Space is Ultimate & the dialogue delivery chancey eh illa ! So far best perfomance for #AK #Thala Fans ku semma treat iruku
@ShraddhaSrinath hattsoff ... you just nailed it. @thisisysr BGM
Therific Movie #HV
Villan_Ofcl: #NerkondaPaarvai Brilliant #Thala's Screenpresence , Dialogue Delivery , Acting Will definitely be one of the Best in his carrer Argument between Rangaraj Pandey and him is enough to prove that ACTOR Ajith is back like BOSS #NKP #HVinoth Now Waiting for #Thala60
Akash: #NerkondaPaarvai Brilliant #Thala's Screenpresence , Dialogue Delivery , Acting Will definitely be one of the Best in his carrer Argument between Rangaraj Pandey and him is enough to prove that ACTOR Ajith is back like BOSS #NKP #HVinoth Now Waiting for #Thala60
CINEMAKARAN: #NerKondaPaarvai -(3.5/5) The Thala Ajithish version of Pink which has its full soul of the original. Very revelent topic to speak. The film has its own changes for Tamil and for lead actor. The court scenes worked out well between Thala, Rangaraj Pandey and three girls.
Prashanth Rangaswamy: #NerKondaPaarvai interval - Most classy Ajith movie ever made. Over seas collection alone will cover the production cost. H.Vinoth - true genius . Audience spell bound by the way of narration..And
@thisisysr BGM - one of his best in the past 10 years!!
#NerKondaPaarvai - Please book your tickets with your family. This is the most complete actor Ajith movie you will ever see. The actor inside Ajith Kumar is roaring like a fierce tiger. This man H Vinoth - Needs to be felicitated with a full rojapoo maalai !!
varalaxmi sarathkumar: #NKP is the need of the hour.I'm so glad #ThalaAjith sir has decided to do this movie..I hope everyone can learn from this film.. #NoMeansNo all the best to the entire team #HVinoth
@ShraddhaSrinath @thisisysr I hope this changes our society's outlook a little.. #NerKondaPaarvai
santhoshraj: #nerkondapaarvai 4.5/5:- No means no whether she is a sex worker, lover,wife, friend, etc.. NO MEANS NO From the mega hit blockbuster of viswasam Thala ajith once again strikes with nerkonda paarvai! Hats off to Thala ajith for choosing this script, none of the mass heroes
Rajasekar: #NerKondaPaarvai - ⭐⭐⭐⭐ Thala Ajith completely owns the film , easily his career best work. The actor's baritone voice and majestic screen presence are just wow in the courtroom scenes. Hats off for accepting this film and performed it with great elan, kudos
Sreedhar Pillai: #NerkondaPaarvai Powerful a reflection on the patriarchal mindset independent women faces in our society. Hats off to #ThalaAjith 4 doing such a daring & difficult role so convincingly,
@ShraddhaSrinath fab. Dir #HVinoth a faithful & neat remake with some commercial ingredients.