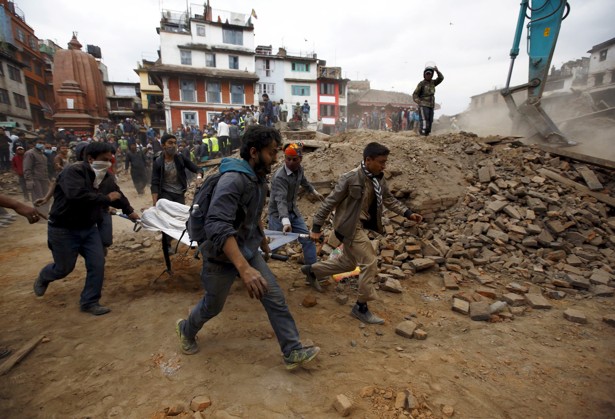 Two days after a devastating 7.9 magnitude earthquake ravaged Nepal, killing more than 3,500 people, there is still little news about its impact on animals in the region.
Humane Society International, which has kept an animal rescue team on the ready to be sent to the earthquake-hit country, said its members in Nepal have found that animals at a zoo in Kathmandu are safe.
However, there is no news yet about the fate of other animals in the quake-hit region, especially of dogs and livestock which may have perished in the natural disaster, Rahul Sehgal, Asia Director of HSI, told IBTimes India.
"Our members in Nepal, who have themselves been badly affected, have told us to put our animal rescue teams from India on hold as there is complete chaos at the moment," Sehgal said.
"Because this was an urban disaster, several pets, street dogs and livestock may have been killed, injured or abandoned. But we are still not sure of the numbers, he said.
Sehgal said that animals, including large carnivores such as lions and tigers, at the Central Zoo in Kathmandu were believed to be safe, according to sources.
The joint group of International Fund for Animal Welfare and Wildlife Trust of India also corroborated the news.
"Our sources have told us that the animals are safe at the Kathmandu zoo," Radhika Bhagat, head of the emergency relief network at IFAW-WTI, told IBTimes India.
However, scores of local animals such as dogs and cats are feared killed, while many are injured.
"Local organisations are reporting shock, blunt force injuries and death among the thousands of street dogs and cats in their communities. Residents are rushing to locate backyard farm animals and pets, but there are no temporary sheltering solutions available for them even when found," Bhagat said.
She said it was too early to know the impact of the earthquake on wild life in the country.
"We are sending a team of experts to Nepal this Friday, and we will know more about the situation from the ground," she said.
HSI has also readied a team of trained staff and are stocking up on medicines, vaccinations and surgical equipment for animals, Sehgal said.
"It is not clear when the team will be going. We will find out in the next few days," he said.
The main agenda of the rescue team will be to help reunite lost pets to their families (if required) or to take care of them till the affected families are settled, to provide livestock owners and farmers with food for the livestock if necessary, and to carry out vaccinations of dogs and livestock to prevent outbreak of diseases.
A local NGO in Nepal, called Animal Nepal, said on its Facebook page that animals at its shelters were safe.
"Dear friends, happy to let you know all of us at animal nepal appear to be well. Our office wall came down and the house of caretaker santosh is no more but otherwise all is well. We are all sleeping outside. We are feeling grateful and pray for the many families that mourn their loved ones (sic)," the NGO said.
It also posted photos showing many locals keeping their pets close to their sides even as they are staying in tents.
You can know more about animals imapcted in Nepal and how to help by visiting the websites of Humane Society International and Wildlife Trust of India.