The US-Bangla Airlines plane crash at the Tribhuvan International Airport in Kathmandu, Nepal, has raised several questions on safety procedures and how the plane veered off the runway and crashed onto a football pitch. Now, a recording has hinted that the accident was caused due to confusion over landing orders.
The audio clip suggests that there was a miscommunication between the pilot of the plane and the air traffic controller. The audio clip has been posted by air traffic monitoring website liveatc.net, and the pilot can reportedly be heard asking for a clearance to land from the north, which the controller grants. However, the pilot can later be heard seeking a permission to land from the south, and that too is granted by the controller.
The clip also has a conversation between the controller and the pilot, and there seems to be some confusion between the two. "Looks like they are really confused," a man, talking about the plane, is heard saying in Nepali, according to the Associated Press. "They appear to be extremely disoriented," another man says.
Minutes before the landing, the pilot is heard asking: "Are we cleared to land?" but the controller asks the plane to turn. "I say again, turn!" he says. The only thing heard on the line after that is the controller asking fire trucks to be immediately sent to the runway.
International Business Times India, however, could not independently verify the authenticity of the audio clip.
After the audio clip was released, the airlines and the airport authorities have been blaming each other for the mishap. The airport's general manager said that the pilot failed to follow instructions from the ATC.
"The airplane was not properly aligned with the runway. The tower repeatedly asked if the pilot was OK and the reply was 'Yes,"' the AP quoted general manager Raj Kumar Chetri as saying.
However, the US-Bangla airlines have said that no clear instructions were given. "We cannot claim this definitely at the moment, but we are suspecting that Kathmandu ATC tower might have misled our pilots to land on the wrong runway," Imran Asif, CEO of US-Bangla Airlines, told reporters in Dhaka.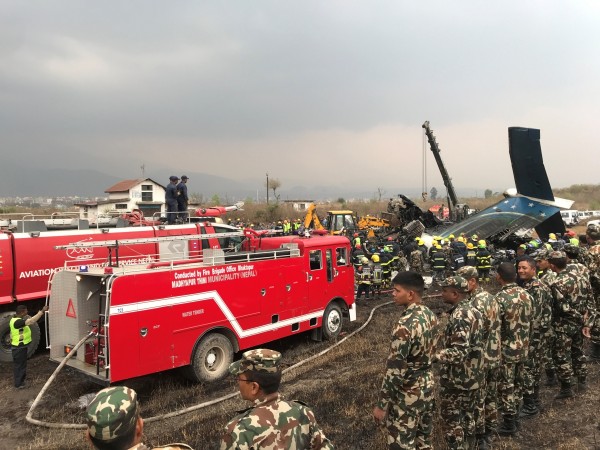 Asif also said that the airline company listened to the audio tape and believe that that there was "no negligence" by the pilots.
The US-Bangla airlines plane was said to be flying very low and looked extremely wobbly before it crash-landed on the football pitch and burst into flames. Forty-nine people have been reported dead and 22 sustained injuries in the mishap.
The black box of the aircraft has been recovered and the exact cause of the crash is being investigated. Autopsies on the dead were also being performed at the Kathmandu Medical College and Teaching Hospital.