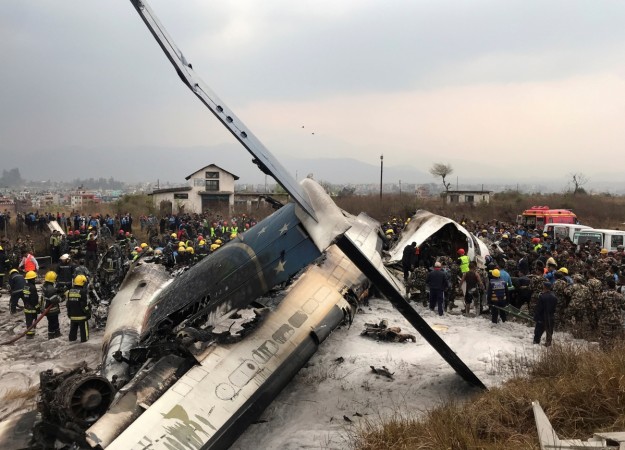 At least 50 have died in the crash, reported Reuters citing Army sources
The Bombardier Dash 8 Q400 was carrying 71 people including four crew.
"Police and army are trying to cut apart the plane to rescue others," airport spokesman Prem Nath Thakur told the agency.
"We just pulled out dead bodies and injured from the debris," government spokesman Narayan Prasad Duwadi told AFP.
Director General of Civil Aviation Authority of Nepal (Caan) Sanjiv Gautam said that the plane lost control when it attempted to land on the runway.
"The aircraft was permitted to land from the southern side of the runway flying over Koteshwor but it landed from the northern side," said Gautam. He said technical glitch is suspected. "We are yet to ascertain the reason behind the unusual landing," he told the Kathmandu Post.
Nepalese Prime Minister KP Sharma Oli visited Tribhuvan International Airport (TIA) to inquire about ongoing rescue operation, reported Kathmandu Tribune. He offered his condolences and assured an immediate probe.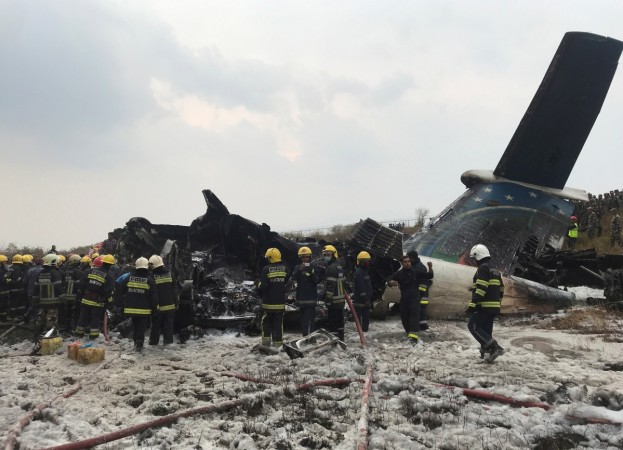 A passenger plane crashed in Kathmandu, Nepal, Monday, at the Tribhuvan International Airport (TIA). Several passengers are feared dead. The plane had 67 passengers and four crew members on board.
The mishap took place at 2.20 pm when the plane overshot the runway and landed near a football pitch. While the exact cause of the mishap is yet to be ascertained, the TIA authorities suspect that there could have been a technical glitch at the time of landing.
Television visuals showed flames leaping out of the wreckage.
"We are trying to bring the fire under control. Details are awaited," Reuters quoted Birendra Prasad Shrestha, an airport spokesperson, as saying.
In a strange coincidence, the airport authorities had carried out a mock emergency drill in the same airfield last year.
UPDATE According to local media, the aircraft crashed after having crossed the threshold of Runway 02 (south-to-north) and after having apparently touched down. Updates: https://t.co/rPgfBUWBAu

— AIRLIVE (@airlivenet) March 12, 2018

Search operations are underway and Tourism Ministry Joint Secretary Suresh Acharya has said that 17 passengers have been rescued and taken to the hospital. The Nepalese Army has also been called in to carry out rescue operations.
About US-Bangla Airlines
An eyewitness spoke of the accident on social media and said she saw the plane go down. An airport staff also explained that the aircraft looked wobbly and unstable while landing.
An Airplane just crashed at the Kathmandu International Airport. I saw it when it happened. OMG! 2:20 pm #Nepal

— FrugalTravelsNepal (@FrugalTravelsNe) March 12, 2018
In 1992, a Thai Airways flight from Bangkok had crashed into the side of a mountain while approaching Kathmandu airport. The mishap had killed all 99 passengers and 14 crew members on board.
(This is a developing story)