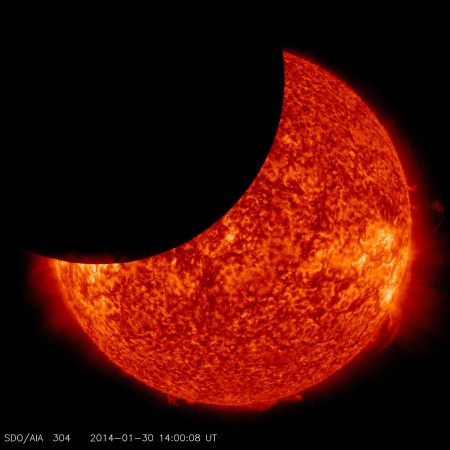 A large part of the United Kingdom will plunge into a never-seen-before "near-total darkness" in the middle of the day during a solar eclipse next month, British media reports.
The eclipse -- when the Moon passes between the Sun and Earth, casting a shadow on our planet -- is expected to occur on 20 March, peaking at around 9:30 am UK time and lasting for 90 minutes, Metro reports.
Nearly 90 per cent of the sun's rays will be blocked in many parts of Europe, while some 94 per cent of the light will be blocked in some parts of Scotland. This will be the biggest eclipse since August 1999, reports Mirror. In London, residents will witness nearly 84 per cent of diminished light.
The blackout will start at around 8:45 am local time and the maximum eclipse – the time when the moon entirely blocks the whole of the sun - will be at around 9:31am. The sensational blackout will come to an end at around 10:41am.
"The path of totality lies well to the northwest of the UK making landfall over the Foroe Islands and Svalbard as totality moves towards the North Pole," Dr Steve Bell, head of the HM Nautical Almanac Office, told Mail Online.
"The UK will see this eclipse as a deep partial eclipse. The place that sees the deepest partial eclipse of the sun in the UK is the west coast of the isle of Lewis close to Aird Uig," he said, adding: "Here 98 percent of the sun will be obscured at mid-eclipse at around 9:36am GMT."