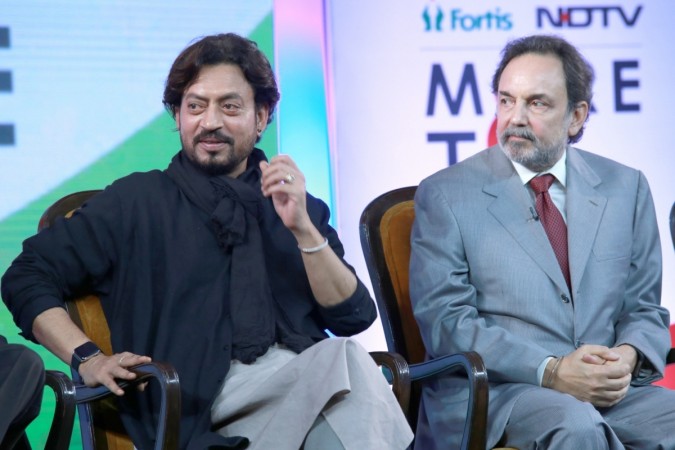 NDTV, which is currently facing the heat from investigating agencies for alleged financial irregularities, has seen its share price plunge over the years. The stock closed at Rs. 58.50 on Tuesday on the Bombay Stock Exchange (BSE), down 3.23 percent to its previous close.
The share price swing for the Delhi-based news channel can be gauged from the fact that it had hit a high of Rs. 470 on January 3, 2008 and a 52-week low of Rs. 57.30 on Tuesday (June 6, 2017).
The company went public in April 2004 comprising fresh issue of shares and offer for sale by the then investors in the price band of Rs. 63-70 per equity share of Rs. 4 face value.
As of March 31, 2017, Prannoy Roy and his wife Radhika Roy, the two key promoters, held 15.94 percent and 16.32 percent, respectively, in NDTV, which has many seen high-profile journalists leave (Arnab Goswami, Rajdeep Sardesai, Barkha Dutt, to name a few).
RRPR Holding Private Limited (Radhika Roy Prannoy Roy Holdings) held 29.18 percent in NDTV that reported a consolidated loss of Rs. 54.8 crore on total income of Rs. 565.76 crore for 2015-16.
The accumulated losses as of March 31, 2016 stood at Rs. 249.7 crore, according to the company's annual report for FY2016, which listed 23 entities of the Group.
The current directors of NDTV, other than Prannoy and Radhika, are Indrani Roy, John Martin O'loan, Navin Raghuvanshi, Kaushik Dutta and Pramod Bhasin.
Infosys co-founder Narayana Murthy was also a director of NDTV, he stepped down in September 2009 citing "increasing pressure on his time and due to his commitments within and outside Infosys."
Coming to the major controversies surrounding the channel, the latest is the raids on Prannoy Roy's residence and the channel's office in Delhi by the Central Bureau of Investigation (CBI), for allegedly causing a loss of Rs. 48 crore in a loan repayment case.
The action was based on a complaint by Sanjay Dutt, described by the channel as a "disgruntled former consultant."
The CBI dismissed the raids as an attack on the media as alleged by sections of the fourth estate. "
"It is clarified that searches have been carried out at the premises of the promoters and their offices based on search warrants issued by the Competent Court. CBI has not conducted any search of registered office of NDTV, media studio, news room or premises connected with media operations. CBI has registered the case based on the complaint of a share holder of ICICI bank and NDTV after carrying out due diligence," the CBI said in a statement.
The agency added that the loan repayment by NDTV to ICICI Bank as a result of reducing the interest rate from 19 percent p.a to nearly 9.5 percent p.a. caused "wrongful loss of Rs 48 crore to ICICI bank and a corresponding wrongful gain to the promoters of NDTV - Dr. Prannoy Roy, Smt Radhika Roy and M/s RRPR Holdings Pvt Ltd."
An interesting feature about the channel is the manner in which journalists are hired. Here is an extract from The Caravan that gives interesting insights in its December 1, 2015 story:

"Vikram Chandra is the son of Yogesh Chandra, a former director general of civil aviation, himself the son-in-law of Govind Narain, a former home and defence secretary and governor of Karnataka. One of the NDTV's top business heads, KVL Narayana Rao, is the son of KV Krishna Rao, a former army general who also served as governor of Jammu and Kashmir and other states.

Rajdeep Sardesai, son of the cricketer Dilip Sardesai, and the son-in-law of Doordarshan's Bhaskar Ghose. Barkha Dutt's mother, Prabha Dutt, was a senior journalist.

Arnab Goswami, son of Manoranjan Goswami, an army officer and BJP member; Manoranjan's brother Dinesh was a union law minister in the VP Singh government. Sreenivasan Jain, son of the economist Devaki Jain, and LC Jain, a well-known activist, who served as a member of the Planning Commission and as India's high commissioner to South Africa.

Another early hire, Nidhi Razdan, daughter of MK Razdan, who has been the editor-in-chief of the Press Trust of India. Vishnu Som, son of Himachal Som, a former senior diplomat. Chetan Bhattacharji, a managing editor, grandson of Nirmal Mukarji, former cabinet secretary and governor of Punjab."
In his opinion piece that appeared in the New Indian Express on Tuesday (June 6, 2017), S Gurumurthy, commentator on politics and economics, said that NDTV undertook many transactions through its web of "letter box" subsidiaries — seven in Mauritius, eight in India, two in the Netherlands, one in London, one in UAE, and one in Sweden.
"These subsidiary companies raised $417 million. Of this, $310 million was raised through a wholly-owned subsidiary, NDTV Network PLC UK, and $117 million through the sale of the channel NDTV Imagine to GE Corporation controlled by Universal Studios - all through private negotiation and private placement," Gurumurthy wrote.
He then went on to produce an exchange between Prannoy Roy and a person from a global consultancy firm on May 22, 2008 that shed light on efforts to "camouflage" the transactions from the tax authorites.
"Subject: Re: FW: Pres Announcements etc "Dear Pronnoy, Here is a shot at it, based on your draft appreciate your problems but honestly the problem could become worse if we give a handle to the tax authorities. I am concurrently discussing with other partners now the draft below. Let's get on a call ASAP, Regards Vivek".