In a first, the National Disaster Management Authority (NDMA) on Thursday (April 20) conducted a state-level mock drill for forest fire in Uttarakhand. The exercise was significant as the state has 70 percent forest cover and forest fires are a common phenomenon there.
In the summer of 2016, at least 3,500 hectares of forest were destroyed by raging fires. The National Disaster Response Force (NDRF) had to use Indian Air Force Mi-17 helicopters to douse the fires. As many as 1,600 fire incidents were noted.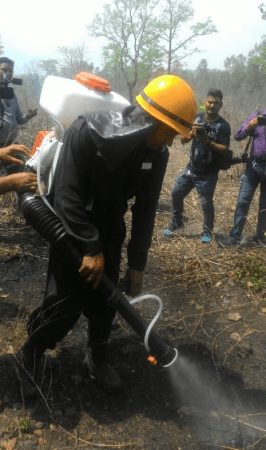 The mock drill will help assess "the efficacy of integrating the preparedness and response mechanisms of the forest department with those of the district administration", the NDMA said.
It took place at multiple locations simultaneously, including residential areas adjoining the forests, across all 13 districts.
It was led by NDMA expert Major General VK Datta (Retd.). In the simulation, fire incidents were reported and all senior officials reached the State Emergency Operation Centre (EOC) within a short time. They analysed the situation and issued instructions to districts for responding to the forest fires.

At the same time, district officials reach their respective EOCs and formed response teams before swinging into action. "Using various techniques and equipment, fires were doused and affected people, animals rescued," the NDMA authorities said.
The exercises were conducted in coordination with various agencies, such as fire, forest, army, health, police, National NDRF and State Disaster Response Force and civil defence. After the drills, a post-exercise analysis was carried out in which all concerned officials took part and discussed the shortcomings and ways to improve them.
The mock exercise was part of a three-day event which began with a Co-ordination Conference on April 18, followed by a Table-top Exercise the next day. These meetings were held to ensure that necessary arrangements for conducting the mock exercise have been put in place.