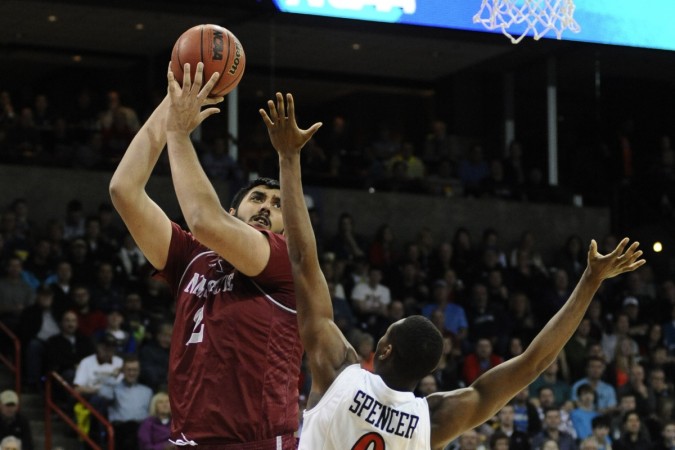 Sim Bhullar could be the first player of Indian descent in NBA history as the 360-pound 7 feet 5 inch Indian giant is expected to earn a 10 day contract from the Sacramento Kings. Apart from being the first Indian, he will also become NBA's tallest player amongst the current crop.
The NBA league has witnessed a number of players who are beyond 7 feet plus, but this Indian will be the sixth tallest player to ever represent an NBA team.
Though he may have the required height to pose a strong challenge to his opponents, it is his technique and other factors, which he needs to improve on to establish himself in not only the Kings' roster, but also become an NBA regular.
The player presently represents Sacramento's affiliate, Reno Bighorns in the NBA Development League, where he has been putting up some decent performance.
The Indian giant has played 39 games during the season. He averages 10.3 points and 8.8 rebounds per game while shooting 72.7% from the floor, reported ESPN.
Bhullar played his college basketball at New Mexico.
He will replace David Wear, who had signed a 10 day contract with the NBA team, Kings as well.
Kings' coach George Karl hopes that Bhullar will get some game time. "He adds a very interesting dimension to the game," ESPN quoted Kings coach.
"And our game is becoming an international game and India is becoming one of the greatest, largest, biggest democracies in the world and I think it's a good story and hopefully we'll find some minutes for him."
Whatever minutes is allowed to the player by Karl, he should excel and show his class and impress all and sundry.
The kings are expected to sign him on Thursday, but the player would not have much time to astound as they just a few games left to play. The Kings are already out of the Playoffs contention as well.
Would it not be an interesting situation when the first Indian born owner signs a player of Indian descent for his own team?
Bhullar was born in Canada to Indian parents.