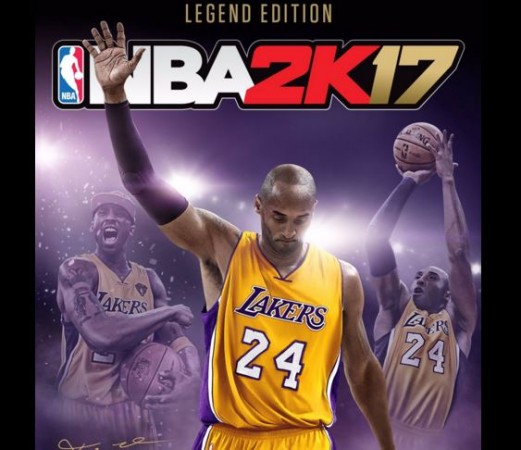 NBA 2K17, the basketball simulation video game from 2K Games, has got a huge new roster update, and yes a locker code as well.
NBA 2K17: December 21 Roster update released; here is the full list
Locker codes are popular among NBA 2K players as it allows them to unlock different items in the NBA 2K series. 2K Games released a Golden State Warriors forward Draymond Green locker code for NBA 2K17. This is a limited time locker code in celebration of second triple-double of the season.
Locker Code for Draymond Green: DRAYM-FXKJE-D2TY8-WE8XT
The January roster update for NBA 2K17 brings the game's biggest roster changes to the attributes of the popular basketball game. There are nearly 400 individual changes in the roster update.
Golden State Warriors player Stephen Curry has moved down to 92 after losing one point. Houston Rockets' James Harden gained one point to move to 95 overall. Milwaukee Bucks guard Giannis Antetokounmpo has moved up with 90 overall after gaining a point.
NBA 2K17 was released for PC, PS4, PS3, Xbox One and Xbox 360.
Here are the Roster update details from Operation Sports:
Atlanta Hawks
Paul Millsap: 85 OVR (+1)
Dennis Schroder: 82 OVR (+1)
Thabo Sefolosha: 75 OVR (-1)
Kris Humphries: 74 OVR (+1)
Brooklyn Nets
Jeremy Lin: 78 OVR (+3)
Trevor Booker: 78 OVR (+2)
Sean Kilpatrick: 76 OVR (-2)
Rondae Hollis-Jefferson: 73 OVR (+2)
Isaiah Whitehead: 73 OVR (+2)
Joe Harris: 71 OVR (-1)
Caris LeVert: 71 OVR (-1)
Justin Hamilton: 70 OVR (-1)
Anthony Bennett: 70 OVR (+1)
Chris McCullough: 70 OVR (+1)
Spencer Dinwiddie: 69 OVR (+2)
Boston Celtics
Isaiah Thomas: 89 OVR (+1)
Jae Crowder: 83 OVR (+1)
Jaylen Brown: 73 OVR (-1)
Tyler Zeller: 73 OVR (-1)
Gerald Green: 73 OVR (+1)
Jonas Jerebko: 73 OVR (+2)
Charlotte Hornets
Kemba Walker: 87 OVR (+1)
Nicolas Batum: 80 OVR (+1)
Cody Zeller: 77 OVR (-1)
Marvin Williams: 75 OVR (+1)
Jeremy Lamb: 75 OVR (+1)
Roy Hibbert: 73 OVR (-1)
Chicago Bulls
Dwyane Wade: 84 OVR (-2)
Nikola Mirotic: 77 OVR (+2)
Robin Lopez: 76 OVR (-1)
Rajon Rondo: 74 OVR (-2)
Doug McDermott: 74 OVR (+1)
Jerian Grant: 72 OVR (+1)
Cristiano Felicio: 72 OVR (+2)
Cleveland Cavaliers
Richard Jefferson: 73 OVR (-1)
Mike Dunleavy: 71 OVR (-1)
Kay Felder: 71 OVR (+2)
Jordan McRae: 69 OVR (-1)
Dallas Mavericks
Dirk Nowitzki: 80 OVR (-2)
Deron Williams: 78 OVR (+2)
Dwight Powell: 77 OVR (+1)
Andrew Bogut: 74 OVR (-1)
Justin Anderson: 74 OVR (+1)
Seth Curry: 74 OVR (+2)
Dorian Finney-Smith: 73 OVR (+2)
Pierre Jackson: 72 OVR (+1)
A.J. Hammons: 68 OVR (-1)
Nicolas Brussino: 67 OVR (+1)
Denver Nuggets
Nikola Jokic: 82 OVR (+3)
Kenneth Faried: 78 OVR (-1)
Gary Harris: 78 OVR (+2)
Jusuf Nurkic: 76 OVR (+1)
Emmanuel Mudiay: 74 OVR (+1)
Jameer Nelson: 73 OVR (+2)
Jamal Murray: 72 OVR (-2)
Detroit Pistons
Reggie Jackson: 82 OVR (+1)
Tobias Harris: 80 OVR (+1)
Marcus Morris: 77 OVR (-2)
Jon Leuer: 77 OVR (+1)
Ish Smith: 73 OVR (-1)
Boban Marjanovic: 72 OVR (-1)
Stanley Johnson: 70 OVR (+1)
Golden State Warriors
Stephen Curry: 92 OVR (-1)
Klay Thompson: 89 OVR (+1)
Draymond Green: 87 OVR (-1)
Zaza Pachulia: 76 OVR (+1)
David West: 75 OVR (+1)
Shaun Livingston: 73 OVR (-1)
Patrick McCaw: 72 OVR (+1)
Houston Rockets
James Harden: 95 OVR (+1)
Eric Gordon: 80 OVR (+1)
Ryan Anderson: 77 OVR (+2)
Nenê: 76 OVR (-1)
Montrezl Harrell: 75 OVR (+4)
Sam Dekker: 73 OVR (-1)
Tyler Ennis: 68 OVR (-2)
K.J. McDaniels: 68 OVR (+1)
Indiana Pacers
Paul George: 88 OVR (-1)
Myles Turner: 83 OVR (+1)
Jeff Teague: 81 OVR (+1)
Thaddeus Young: 78 OVR (+1)
C.J. Miles: 76 OVR (-3)
Monta Ellis: 75 OVR (-2)
Aaron Brooks: 75 OVR (+2)
Glenn Robinson III: 73 OVR (-1)
Kevin Seraphin: 71 OVR (-1)
Los Angeles Clippers
DeAndre Jordan: 86 OVR (+1)
Jamal Crawford: 76 OVR (-1)
Austin Rivers: 76 OVR (+1)
Luc Mbah a Moute: 74 OVR (+1)
Paul Pierce: 72 OVR (-1)
Alan Anderson: 68 OVR (-1)
Los Angeles Lakers
Julius Randle: 80 OVR (+3)
Louis Williams: 79 OVR (-3)
D'Angelo Russell: 79 OVR (-1)
Nick Young: 77 OVR (+1)
Jordan Clarkson: 76 OVR (-1)
Timofey Mozgov: 75 OVR (-1)
Luol Deng: 74 OVR (-1)
Thomas Robinson: 74 OVR (+1)
Tarik Black: 74 OVR (-2)
Jose Calderon: 73 OVR (-1)
Marcelo Huertas: 73 OVR (+1)
Metta World Peace: 70 OVR (+1)
Memphis Grizzlies
Marc Gasol: 87 OVR (+1)
Tony Allen: 79 OVR (+1)
Chandler Parsons: 78 OVR (-1)
Vince Carter: 74 OVR (+1)
Andrew Harrison: 72 OVR (+1)
Jarell Martin: 70 OVR (-1)
Troy Williams: 70 OVR (+1)
Wade Baldwin: 68 OVR (-1)
Miami Heat
Hassan Whiteside: 85 OVR (-1)
Goran Dragic: 81 OVR (-2)
Tyler Johnson: 77 OVR (+1)
James Johnson: 77 OVR (+2)
Justise Winslow: 76 OVR (-1)
Josh Richardson: 76 OVR (+1)
Wayne Ellington: 74 OVR (+2)
Willie Reed: 73 OVR (+3)
Josh McRoberts: 72 OVR (+1)
Rodney McGruder: 69 OVR (+1)
Luke Babbitt: 69 OVR (+1)
Milwaukee Bucks:
Giannis Antetokounmpo: 90 OVR (+1)
Jabari Parker: 83 OVR (+1)
Malcolm Brogdon: 74 OVR (+1)
Tony Snell: 73 OVR (+1)
Steve Novak: 71 OVR (-1)
Miles Plumlee: 69 OVR (-1)
Minnesota Timberwolves
Karl-Anthony Towns: 87 OVR (-1)
Andrew Wiggins: 81 OVR (-1)
Shabazz Muhammad: 74 OVR (+1)
Nemanja Bjelica: 72 OVR (-1)
Kris Dunn: 72 OVR (-1)
Jordan Hill: 71 OVR (-3)
Brandon Rush: 71 OVR (-1)
New Orleans Pelicans
Buddy Hield: 74 OVR (+4)
Tim Frazier: 74 OVR (-1)
Solomon Hill: 71 OVR (-2)
New York Knicks
Carmelo Anthony: 85 OVR (-1)
Derrick Rose: 81 OVR (-1)
Willy Hernangomez: 75 OVR (+1)
Lance Thomas: 71 OVR (-1)
Ron Baker: 65 OVR (-1)
Oklahoma City Thunder
Steven Adams: 82 OVR (+1)
Victor Oladipo: 79 OVR (+2)
Andre Roberson: 73 OVR (-1)
Anthony Morrow: 72 OVR (-1)
Alex Abrines: 72 OVR (+3)
Kyle Singler: 68 OVR (-1)
Semaj Christon: 65 OVR (-1)
Orlando Magic
Serge Ibaka: 81 OVR (+1)
Elfrid Payton: 77 OVR (+2)
Jeff Green: 75 OVR (-1)
Jodie Meeks: 75 OVR (+1)
Aaron Gordon: 75 OVR (+2)
D.J. Augustin: 74 OVR (-1)
C.J. Watson: 70 OVR (-1)
Philadelphia 76ers
Joel Embiid: 85 OVR (+2)
Ersan Ilyasova: 78 OVR (+2)
Jahlil Okafor: 75 OVR (-3)
Sergio Rodriguez: 75 OVR (+1)
T.J. McConnell: 74 OVR (+1)
Gerald Henderson: 74 OVR (+1)
Dario Saric: 74 OVR (+2)
Nik Stauskas: 73 OVR (-1)
Richaun Holmes: 73 OVR (+1)
Timothe Luwawu-Cabarrot: 68 OVR (-1)
Phoenix Suns
T.J. Warren: 77 OVR (-2)
Tyson Chandler: 76 OVR (+1)
Jared Dudley: 73 OVR (-1)
Marquese Chriss: 73 OVR (+3)
Tyler Ulis: 71 OVR (+1)
Portland Trailblazers
C.J. McCollum: 86 OVR (+2)
Mason Plumlee: 79 OVR (+1)
Evan Turner: 75 OVR (+1)
Allen Crabbe: 74 OVR (+1)
Al-Farouq Aminu: 73 OVR (-5)
Ed Davis: 72 OVR (-1)
Meyers Leonard: 70 OVR (-2)
Jake Layman: 69 OVR (-1)
Tim Quarterman: 66 OVR (+1)
San Antonio Spurs
LaMarcus Aldridge: 86 OVR (+2)
Tony Parker: 78 OVR (+1)
Patrick Mills: 77 OVR (-1)
Danny Green: 76 OVR (-1)
Kyle Anderson: 71 OVR (-1)
Davis Bertans: 69 OVR (-1)
Sacramento Kings
Rudy Gay: 81 OVR (-1)
Darren Collison: 77 OVR (-2)
Kosta Koufos: 73 OVR (+1)
Ty Lawson: 73 OVR (+2)
Arron Afflalo: 72 OVR (+1)
Matt Barnes: 72 OVR (+1)
Willie Cauley-Stein: 71 OVR (-1)
Anthony Tolliver: 71 OVR (+1)
Toronto Raptors
Kyle Lowry: 88 OVR (+1)
Jonas Valanciunas: 81 OVR (-1)
Norman Powell: 75 OVR (-1)
Cory Joseph: 75 OVR (+1)
Patrick Patterson: 74 OVR (-1)
Lucas Nogueira: 72 OVR (+3)
Jakob Poeltl: 71 OVR (+1)
Utah Jazz
Derrick Favors: 79 OVR (-4)
Joe Ingles: 77 OVR (+2)
Joe Johnson: 75 OVR (-1)
Jeff Withey: 74 OVR (+1)
Dante Exum: 74 OVR (+2)
Washington Wizards
Otto Porter: 80 OVR (+1)
Marcin Gortat: 79 OVR (+1)
Trey Burke: 73 OVR (+1)
Jason Smith: 72 OVR (+1)
Kelly Oubre Jr.: 72 OVR (+1)
Andrew Nicholson: 69 OVR (-2)