MS Dhoni had quit the Indian team captaincy earlier in the year from both ODIs and T20s, which opened the doors for Test captain Virat Kohli to take over the reigns. Since then, India under Kohli has been a brilliant side, helping the team win series after series, outplaying opponents in all formats.
No wonder, India are number one team in both the Tests and ODI format. Though Kohli is the official captain, one has often witnessed Kohli going up to Dhoni and taking suggestions from the captain.
Where should MS Dhoni bat? Former India coach explains
Being a senior statesman, Dhoni is given good ears by Kohli before taking major on-field decisions. Dhoni is known for his wise fielding and bowling changes, which made him a wonderful captain during his days. So when things are not going Kohli's way, he depends, to some extent on Dhoni, who understands the game better than anyone else on the field.
There is a reason for it as well.
Being a wicket-keeper helps Dhoni get a better feel of the situation. Former India wicket-keeper, Nayan Mongia feels Dhoni has been a huge assistance to Kohli from the wicket-keeping position.
"Being the senior most and highly respected player, Dhoni continues to be a big influence on the team. Kohli has benefited immensely from Dhoni's advice and tips from behind the stumps," Mongia told rediff.com in an interview.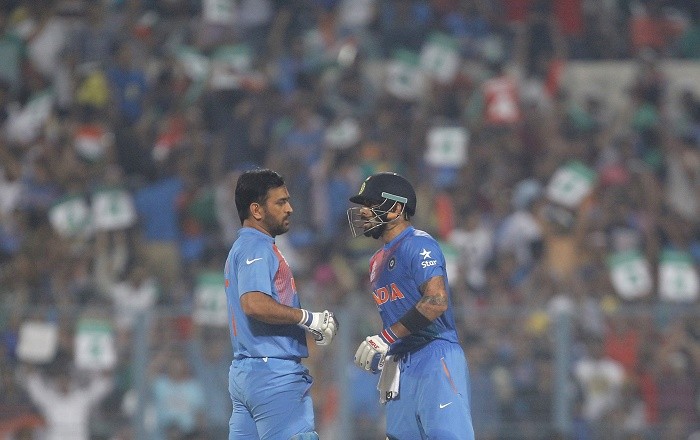 There always seems to be a good communication between the former and present captain, which is really doing wonders for the Men in Blue. The duo will hope to work together in tandem and help India win the 2019 World Cup, which is the aim of the present Team India.
Will Dhoni be there till 2019 World Cup?
The former India captain is going strong and is one of the fittest players in the Indian team. But, there are critics, who question if Dhoni will be there for the World Cup.
India coach Ravi Shastri, who lauds Dhoni's fitness, has made it clear in some of his recent interviews that the Jharkhand man will be there if he can score runs like the way he is doing.
Mongia feels that besides the form and fitness, Dhoni is backed by present India captain and coach.
"Age is only a number in Dhoni's case. He is still a great finisher, still a great match-winner. He knows how to take the situation in his hand in adversity, especially when there is a chase on. Besides his own fitness and form, Dhoni enjoys the backing of both Kohli and Ravi Shastri. There really is no reason why he shouldn't feature in the Indian team for the 2019 World Cup," Mongia said.