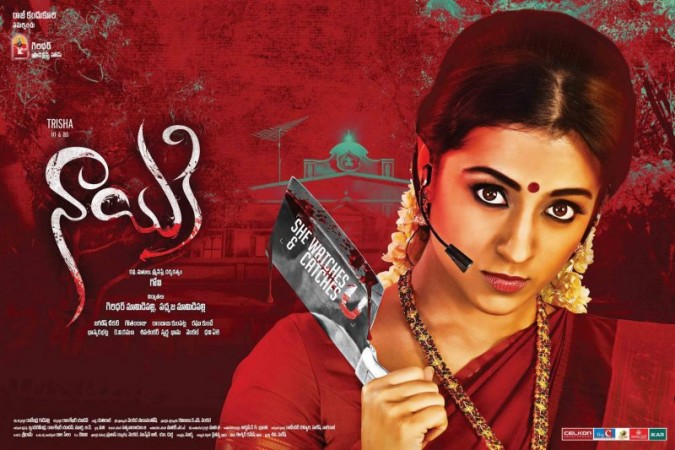 Director Govi aka Goverdhan Reddy's Telugu movie "Nayaki," starring Trisha, Sathyam Rajesh, Ganesh Venkatraman and Sushma Raj, has received mixed reviews from critics and audience.
"Nayaki" is a horror comedy film and director Goverdhan Reddy has also written the story and screenplay for the film, which has been produced by Giridhar Mamidipally under his banner Giridhar Production House. Jagadeesh has handled the cinematography, while Raghu Kunche and Sai Karthik composed music for the movie.
"Nayaki" revolves around the story of (Satyam Rajesh) and his girlfriend Sandhya (Sushma Raj), who decides to go on weekend trip. They begin their journey, but they end up taking shelter at a haunted house on the outskirts of Hyderabad, due to some incidents. The bungalow is possessed by the spirit of Gayatri (Trisha). What happens next forms the crux of the story.
The critics and audience say that the movie has a routine story that has been explored by Tollywood filmmakers in the past. There are some entertaining and engaging moments in the first half of the film, but the second half goes for a toss, due to some irrelevant scenes.
Trisha, Sathyam Rajesh, Ganesh Venkatraman and Sushma Raj have done justice to their roles and their performances are highlights of the "Nayaki." The movie has average production values and music and camera work are the attractions on the technical front, say the critics and viewers.
We bring you some critics' verdict and ratings and audience's comments (shared on Twitter). Continue to see them in the "Nayaki" movie review roundup:
It's a film by a one-film old director Govi who's at a loss of ideas in executing the plot that sounds interesting on paper. Despite capable actors at the helm, from Trisha to Ganesh Venkatraman to Sathyam Rajesh and Jayaprakash, all he gives them are poorly etched characters that can't lift an indifferent execution.
Nayaki is yet another film which has been made to just cash in on the craze of horror comedies. But sadly, neither its thrills or the comedy engrosses you for most of the film. Except for Trisha's novel character, this film has nothing much to offer and ends up as a routine and predictable thriller which can be watched when it is aired on TV.
'Nayaki' is just another run-of-the-mill horror genre which has nothing new to offer. The same old camera angles and same old screenplay just annoy us. Trisha's glamour and 'Oomph' factor saved the movie. Music is also pretty sloppy. The movie is not even half-baked. Audience recently lapped up and cherished 'The Conjuring 2'. They won't be happy with such boring horror projects. It's high time, Tollywood wakes up with innovative screenplay.
Kishore ‏@Kishore_Tri
Friend said that #Nayaki movie is one-time watch... Trisha performance is good it seems :) Happy to know this :)
Raj ‏@AlwaysRAAZ
Hero Nara Rohith guest appearance in #Nayaki Trisha's acting is simply superb,an average fare #Nayaki
Anusha ‏@anusha_kalaga
@trishtrashers @directorgovi #Nayaki is a worth watch mvie for 1 time..trisha is best in her role..she made us laugh n scary too iam so glad to watch our #Nayaki on 70MM screen..it was an diff attempt #girlpower review:3/5
Sriram Karanam ‏@ramsjoyy
Expected a decent thriller or horror or comedy film... Nothing was perfect. Very disappointed #Nayaki
Arun Kumar ‏@aruntrish
Each & everyone praises @trishtrashers performance #Nayaki ☺ #Nayaki - Good horror plot with Unique comedy @trishtrashers @DirectorGovi @kuncheraghu #Nayaki - One women show @trishtrashers