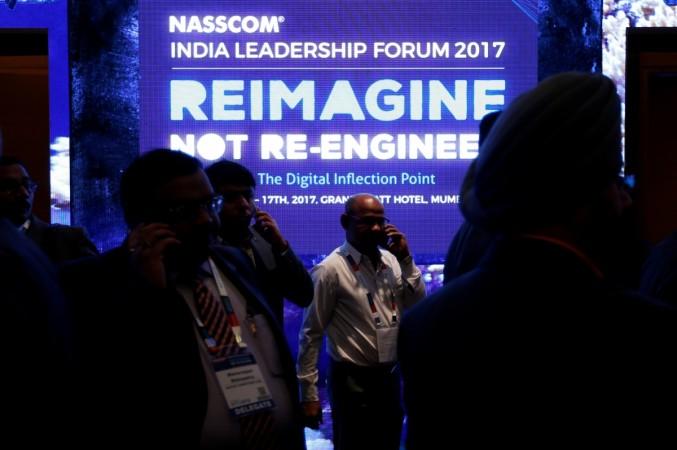 India's $155-billion IT software services industry could post as low a growth rate of six percent in the coming financial year 2017-18 (FY 2018), according to brokerage Nirmal Bang, even as industry lobby body Nasscom deferred making growth projections (for FY2018), citing global headwinds, especially due to US President Donald Trump's policies such as curbs on H-1B visa seekers.
In other news, TCS informed the Bombay Stock Exchange (BSE) on Thursday that its board will meet on February 20 to consider share buyback.
"We will be surprised if the growth projection that Nasscom comes up with three months down the line is higher than 6%-8%. This growth includes expansion not only of India-origin IT services and BPO players, but also of global in-house captives (GICs) of some large customers," analyst Girish Pai, head of research at brokerage Nirmal Bang Institutional Equities said in a note on Thursday.
Read: Infosys hires law firm to review its simmering corporate governance issues
On Thursday, the BSE IT index was up 1.85 percent at around 2.15 pm, outperforming the Sensex that was trading 0.52 percent higher at 28,301, led by Sun Pharma, Infosys and Maruti Suzuki India Ltd. The NSE Nifty was trading 43 points higher at 8,768.
The estimates for FY 2018 will now be announced in May 2017, according to Nasscom.
On Wednesday, Nasscom postponed releasing the estimates for the coming fiscal. "This (the postponement) has been attributed to global macro uncertainty, cross-currency fluctuations, structural shift in the industry, political volatility, headwinds in healthcare around the repealment in the US of the Affordable Care Act (ACA) and lack of firming up of discretionary spending by customers, especially in the critical BFSI sector (which accounts for 40%-45% of industry revenues)," Pai wrote.
The bad news also applies to the current fiscal, with Nasscom lowering its growth estimates to 8.6 percent from the earlier 8-10 percent in November 2016 and 10-12 percent in February last year.
The size of India's IT services industry is about $155 billion, dominated by the likes of TCS, Infosys, Wipro, HCL Technologies and Tech Mahindra, in addition to medium-sized firms such as Mindtree and Zensar Technologies.
The most critical vertical — BFSI — could witness weakness for various reasons, one of them being a slowdown in spending by clients.
"Importantly, Nasscom indicated that it has not seen a revival in discretionary spending in BFSI industry, something that many of our competitors have been indicating and which we have been very sceptical about as we believe the details were disconnected with the headlines," Pai wrote.
On the BSE, shares of TCS were up 1.56 percent at Rs 2,453 apiece, Infosys was trading with gains of 2.46 percent at Rs 1,006, Wipro was trading 1.05 percent higher at Rs 479 and Zensar was up 1.37 percent higher at Rs 937. Tech Mahindra was trading at Rs 504, up 1.68 percent.