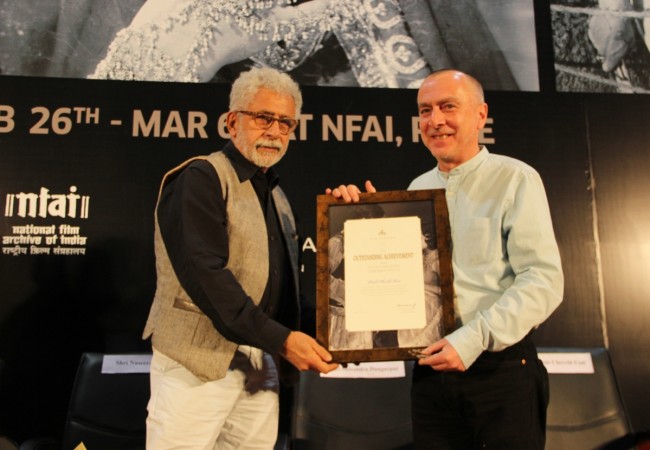 Veteran actor Naseeruddin Shah inaugurated the film preservation and restoration workshop, which was held at the National Film Archive of India in Pune. The Film Heritage Foundation in association with Viacom18 organised the second edition of the workshop in Pune.
Filmmaker and archivist Shivendra Singh Dungarpur has set up the Film Heritage Foundation. The workshop, organised by Film Heritage Foundation, is a 10-day event, which started on Feb. 25, in Pune.
Bollywood's megastar Amitabh Bachchan, who is the brand ambassador of film heritage foundation, said that this cause should be supported and endorsed by the film industry.
"I was very happy to be the Chief Guest at the first ever Film Preservation Workshop in Mumbai last year. I believe that it is the cause that must be supported and endorsed by all of us in the film industry. We are the creators of our work, but we must also respect what we create and ensure that it is saved for prosperity. I wish Film Heritage Foundation and the NFAI All the best for this excellent initiative," Big B said in a statement.
"It is a matter of great pride for me to be here. On behalf of the entire film fraternity, I would like to thank Shivendra for this initiative. I am very proud that there are 50 films of mine in the archive list here. I can't thank P.K. Nair Saab enough because he has inspired a generation of youngsters to follow him in his footsteps," Naseeruddin said at the event.
Talking about the second edition of the workshop, Shivendra said that this year the workshop is more advanced and will focus more on film archiving.
Apart from the technical workshops, there will be lectures designed by David Walsh, Head of the FIAF Technical Commission, and a daily screening of restored classics followed by a talk on film restoration. Also, in the second edition, Thelma Ross from the Museum of Modern Art, New York, will conduct sessions in the specialized field of documentation and cataloguing.