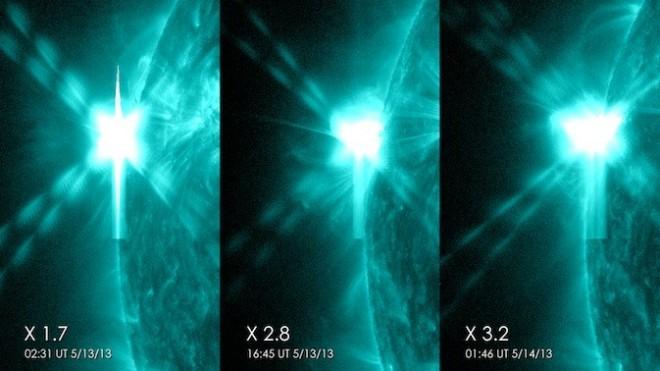 NASA's Solar Dynamics Observatory (SDO) recorded the sun emitting three strong solar flares within in a span of 24 hours from 12 to 13 May.
The solar flares also known as Coronal Mass Ejection (CME) were not Earth-directed and have been named X1.7, X2.8 and X3.2, in the order of their emissions consecutively.
The third solar flare X3.2 at 9:11 pm EDT on May 13 is the strongest X-class flare of 2013, surpassing the two X-class flares that occurred within the 24-hour period.
It was also considerably faster for a CME at 1,400 miles per second according to NASA experts.
The strongest CME recorded so far is X6.9 on 9 August, 2011.
Tony Phillips of Spacewether.com said the flares were not in the line of any planets. "The sunspot that produced this blast is on the far side of the sun. Soon, in a few days, it will turn toward Earth, emerging into view over the sun's eastern limb," he said.
The solar eruptions recorded in infrared will pass NASA's Spitzer spacecraft and "may give a glancing blow to the STEREO-B and Epoxi spacecraft."
The mission operators have been warned and are likely to put the missions in safe mode when the flare passes the missions.
CMEs are huge solar winds arising from the sun's atmosphere. They can shoot over a billion tons of particles into space at over a million miles per hour.
Generally, if a CME is strong enough, then it can affect satellites and astronauts functioning within the orbit. It can even cause severe damage to power structures on Earth and bring out several communication and network snags.