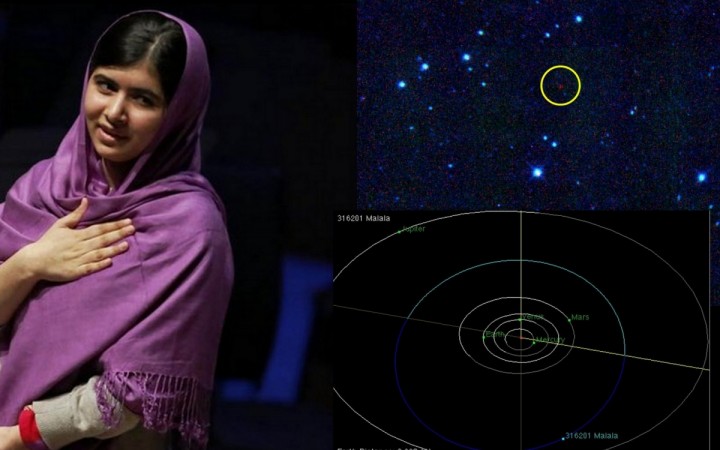 NASA has reportedly named an asteroid in honour of 17-year-old Nobel Peace Prize winner Malala Yousafzai.
The asteroid, located in the main belt between Mars and Jupiter, was discovered by Dr Amy Mainzer, an astronomer at NASA's Jet Propulsion Laboratory in California, USA.
NASA has named the new find, Asteroid 316201, after Malala. The celestial body is about 4km in diameter, and its surface is very dark, the colour of a printer toner. It orbits the Sun every 5.5 years, Dr Mainzer explained.
"Very few (asteroids) have been named to honour the contributions of women. It is a great honour to be able to name an asteroid after Malala," Dr Mainze wrote in the blog of Malala Fund, a non-profit organisation, led and inspired by the 17-year-old Nobel laureate.
Malala was awarded the Nobel Peace Prize in December 2014, becoming the youngest person and the first person from Pakistan to win the prestigious award.
Malala as an 11-year old had started a campaign to promote education for girls in Pakistan. But the Taliban, offended by her blog on the conditions in Swat Valley in Northern Pakistan, tried to kill her in 2012.
She had received injuries to the head and barely survived the attack. Her campaign to bring education to girls has gone global ever since.
Check out the asteroid on NASA's website here.
#Awesome --> NASA Astronomer Dr. Amy Mainzer explains why she named this asteroid for Malala http://t.co/k8PfoZwff0 pic.twitter.com/roUW32o9Ba

— Malala Fund (@MalalaFund) April 9, 2015
NASA astronomer names asteroid after #Malala. http://t.co/SQjoHdVLz8 via @mashable pic.twitter.com/KuvfjPAoZ7

— Jim Roberts (@nycjim) April 10, 2015