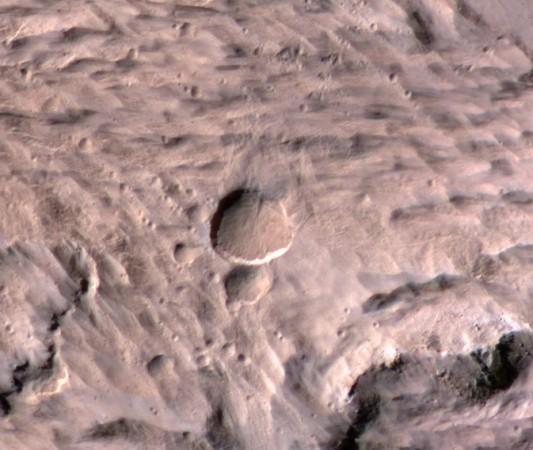 The Martian crater appeared for the first time in March 2012 and was captured by NASA's Mars Reconnaissance Orbiter (MRO). The MRO captured both 'before' and 'after' pictures of the crater.
Researchers believe that the formation of the crater was due to an explosion in the Martian sky and occurred due to friction, caused by incoming asteroid and the red planet's atmosphere.
The event can be compared to the Russian meteor blast that hit Chelyabinsk, Russia, shattering window panes in 2013. The air dust, along with the ground impact, contributed to a dark area on the Martian surface, stretching around five miles diagonally.
Since 2006, the orbiter has been involved in systematic observation. In order to search for evidence in dust storms and other such weather events, researchers analysed the daily global coverage of MRO's weather-monitoring camera, the Mars Color Imager (MARCI). However, it was only two months ago when scientist Bruce Cantor observed a dark region close to the equator.
"It wasn't what I was looking for. I was doing my usual weather monitoring and something caught my eye. It looked usual, with rays emanating from a central spot," Cantor stated in the news release from NASA.
To verify the dark spot, researchers looked for previous images and understood that the spot existed not five years ago but only a year back. Various data helped the researchers to find the exact date of the impact.
The team revealed that the dark spot was not present on 27 March 2012, and then it appeared before the daily imaging on 28 March 2012.
After confirming the spot as a fresh Martian crater, the team focused on the region. Compared to the other 400 fresh craters causing impact on the Red Planet, that have been documented with both before and after images, this is the only one that has been found using MARCI imaging.
In 2012, the site of the fresh crater was photographed and scanned by telescopic Context Camera (CTX) and, in April 2014, CTX images showed the two craters with dark spot that were not seen earlier, which confirms that the dark spot found by MARCI was a new crater.
"Studies of fresh impact craters on Mars yield valuable information about impact rates and about subsurface material exposed by the excavations," said Leslie Tamppari, deputy project scientist for the Mars Reconnaissance Orbiter (MRO) mission at NASA's Jet Propulsion Laboratory (JPL) in Pasadena, California.
"The combination of HiRISE and CTX has found and examined many of them, and now MARCI's daily coverage has given great precision about when a significant impact occurred."