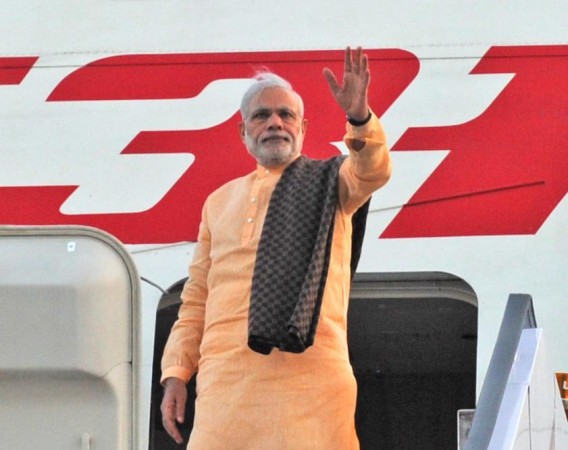 Among all Indian politicians, Prime Minister Narendra Modi is undoubtedly the most active personality on social media.
Modi never fails to update about his trips as well as wish his fellow citizens on special days. However, his recent tweet on super computers has made him the butt of all jokes on social media as twitterati started trolling the BJP leader for using too much of the word "super".
After inaugurating the India-Kazakhstan Centre of Excellence in Information and Computer Technology, which has super computer Param (given by India), the official Twitter handle of PMO India tweeted on Tuesday:
Super computer will do super computing and will be the reason for super commitment: PM @narendramodi pic.twitter.com/EZqpLLCAeU

— PMO India (@PMOIndia) July 7, 2015
Following this, social media users have been sharing funny memes, tweets and GIF files on the Indian prime minister for his "super" tweet.
A social media user asked, "If super computer doesn't do super computing then what will Modi do?"
Modi has 13.5 million followers on Twitter and 29 million on Facebook, while the PMO's Twitter handle has 6.83 million followers.
Currently, Modi is on an eight-day visit to Central Asia and Russia. He reached Russia from Kazakhstan on Wednesday.
Check out some of the funny tweets and trolls on Modi's 'super' tweet:
When you don't want to buy a product and the salesman keeps on explaining abt the features pic.twitter.com/76GtMGxmyk

— Ingenious (@Bees_Kut) July 7, 2015
. @PMOIndia ROFL... Hope @narendramodi didnt say clouds do cloud computing & Tata Nano does nano computing :p — Suryanarayan Ganesh (@gsurya) July 7, 2015
@PMOIndia Obviously super computer will do super computing. What did you thought? super computer will do super dance? @narendramodi — The Chakolebaaz (@Chakolebaaz) July 7, 2015
I miss those days when we had a PM who did not open his mouth. https://t.co/WF6FDvK5Ey — Arnab Goswami (@ARNAB_G0SWAMI) July 7, 2015
Gone are the days when Super Computers were used to cook Matar-Paneer. pic.twitter.com/cSdBKE4b8X — Vyapam Mukt RoGa (@RoflGandhi_) July 7, 2015
When bae returns with popcorn but the national anthem has started playing pic.twitter.com/dEe91pGQxI — Tanmay Bhat (@thetanmay) July 7, 2015
Looks like modi is searching Cloud computing in Sky since super computer are super modi logic.

— Kashyap Nandan (@kashyapnandan_) July 8, 2015