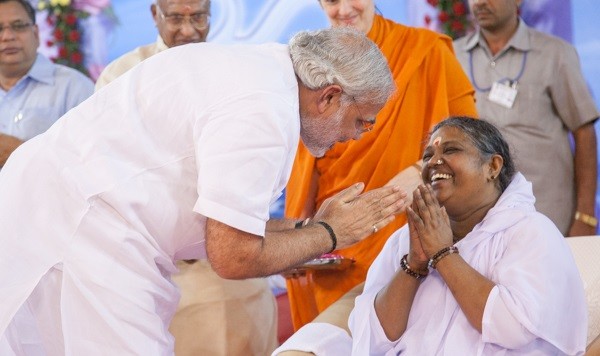 Mata Amritanandamayi, the Hindu spiritual leader and guru, who enjoys a tremendous following in India and abroad, celebrates her 63rd birthday on September 27 at Amritapuri in Kollam, Kerala. On Tuesday, Indian Prime Minister Narendra Modi joined the celebrations via video conferencing, wishing warm greetings for her special day.
"On this joyous occasion, I offer my deep regards to Amma. I also pray to the Almighty to give long life and good health to Amma. She is the guiding light for millions. I am very fortunate to be among those who have been receiving Amma's blessings and unconditional love," Modi is heard saying in the video.
The Indian PM, who attended the 60th birthday celebrations of the spiritual leader three years ago remembered the day during his speech on Tuesday. "Three years ago, I had the opportunity to pay my respect on the occasion of Amma's 60th birthday celebrations. Today, though I am not so lucky to be part of the celebrations in person, I am able to wish her through technology," Modi says.
Modi, who is overwhelmed with the support he has been receiving from Keralites took the oppurtunity to thank all his followers in the state. "I just returned from Kerala, and I am touched with the love and affection showered on me by the people of Kerala," he added in his speech on Tuesday.
The over eight minute video of Modi's speech on the occasion of Amritanandamayi's birthday, has been uploaded on the YouTube page of the PM.
Watch the full video conference here: