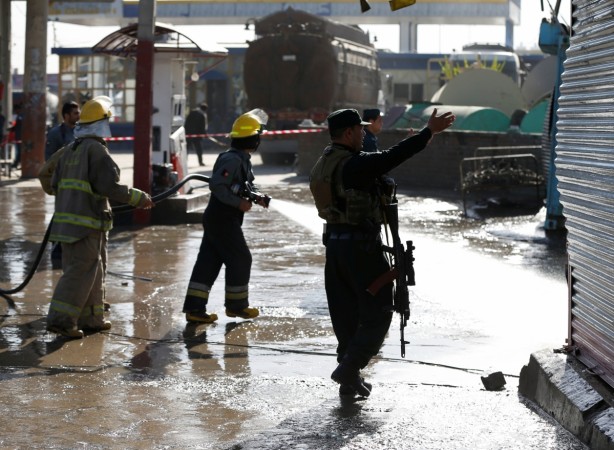 Afghanistan's Ministry of Interior Affairs and Nepal's Ministry of Foreign Affairs confirmed on Monday that the 14 people who died in a suicide attack in Kabul were Nepali security guards. Nepali Prime Minister KP Sharma Oli and Deputy Prime Minister Kamal Thapa condemned the attack, responsibility for which was claimed by the Taliban.
Prime Minister Narendra Modi condemned the attack on Monday and said that India would provide "all relevant assistance to the Nepal government in this hour of tragedy."
"Shocked to hear the death of 14 Nepalese in a terrorist attack in Kabul today.Strongly condemned this heinous crime against innocent people [sic]," tweeted Thapa.
A suicide bomber on foot was waiting for the minibus carrying Nepali and Afghan guards on Monday.
"Many people died," Amrit Rokaya Chhetri, a wounded Nepali, was quoted as saying by the Associated Press. "I say to my family, I am ok and I will come home," he added, even as he lay on a hospital bed with a bandage around his head. The guards were on their way to the Canadian Embassy when the attack took place.
Afghanistan's Chief Executive Abdullah Abdullah took to Twitter to convey his outrage at the attack.
"I condemn the terrorist attack on those travelling to their work places in Kabul this morning. This attack is an act of terror & intimidation[sic]," Abdullah said.
The Taliban has amped up its attacks in Afghanistan after announcing that it would begin its spring offensive. The attack on Monday was a revenge attack for the death of six Taliban prisoners, the Kathmandu Post reported.
The terrorist group often targets Afghan security forces and the government employees in a similar manner. Despite a series of attacks on buses carrying officials in the past few months the government has not been able to prevent them.