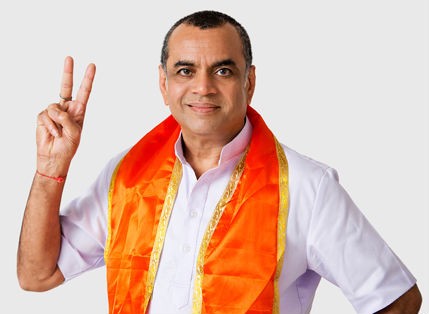 Rumours about the biopic on Narendra Modi started doing the rounds in the media much before he become the Prime Minister of India.
However, there has been no news about the movie's production details. Now, Bollywood actor Paresh Rawal, who will play NaMo in the movie, says that the shooting of the biopic will start in February or March, 2015.
In an interview to BollywoodHungama (BH), Rawal, who is now busy shooting for Anees Bazmee's forthcoming movie Welcome Back, has confirmed the news about the shooting of Narendra Modi's biopic.
"We are going to start work in Feb-March 2015. We'll announce the director's name soon," the actor, who has campaigned for NaMo in previous elections in Gujarat, said.
The scripting of the biopic is going on at brisk pace. "We are scripting the film in a very interesting way. We'll be taking into account his entire career. Fortunately or unfortunately, his career has just taken a huge leap. Abhi to woh interval point pe khade hain! Second half to bada interesting hone waala hai - unki zindagi ka, political career ka, apne desh ka," added Rawal.
NRI filmmaker Mitesh Patel, who is thrilled over Narendra Modi's journey from a common man to the prime minister of India, has planned to produce the movie with a whopping budget of Rs 40 crore. The producer has planned to use the 4D technology to simulate rain, wind and lightening in the theatre. He will be working with a Korean company to make this happen.
Patel, who is originally from Baroda, had taken the permission form Modi for his biopic before the BJP announced the latter as the prime ministerial candidate.
"I am very impressed by his progress, so my movie is based on him and his struggle. I wish to give a positive message through the film. I have met him and explained my idea to him, and he said, 'Okay'," IANS had quoted Patel as saying.