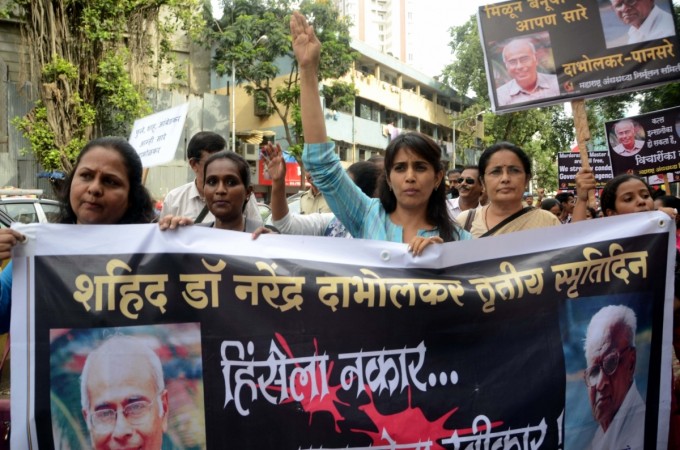 The Central Bureau of Investigation (CBI) named Virendra Singh Tawde, member of the Hindu Janajagruti Samiti (HJS), on Wednesday as the main conspirator in its first chargesheet in the Narendra Dabholkar murder case. The CBI filed the chargesheet in a Special CBI Court in Pune.
The CBI also identified his killers as Vinay Pawar and Sarang Akolkar, other members of the religious organisation Sanathan Santha. Akolkar was also previously charged for the 2009 Margaon blast. A red corner notice was issued against him too. The other killer, Pawar, has been missing since 2009, however, there is no criminal record against him, the Hindu reported.
The police made the first substantial move in getting justice for rationalist Dabholkar when they nabbed Tawde, allied to the right-wing group Sanathan Sanstha, three months ago. He was reportedly made responsible for opposing Dabholkar's then pending bill against superstition in 2007.
The rationalist was murdered on Aug. 20, 2013, while he was out on a morning walk. Tawde and Akolkar reportedly wanted to kill Dabholkar in 2009, but waited till 2013 as the Margaon blast was carried out by the members of the radical religious group then.
As per the documentary evidence and investigation till now, Tawde and Akolkar wanted to kill Dabholkar in 2009. However, they had to drop the plan after two Sanatan Sanstha workers died when the bomb, they were ferrying to Margao, accidentally went off," CBI said in June 2016.
The investigating agency also found other evidence at the Sanathan Sanstha office in Panvel, Maharashtra, which shows that the organisation had attempted blasts in Vashi, Thane and Goa, but failed to do so. Following that, they targeted people who they thought were "anti-Hindu," the Indian Express reported.